If you've been doing Pilates on a mat for quite some time now I'm pretty sure you're already thinking about other ways in which you can get the most out of the things that you've learned so far. The good news is that, in the world of Pilates, there are always new things you can do to increase your overall strength, balance, coordination, flexibility, and mindfulness. Take for example a Pilates reformer machine.
You can think of it as a Pilates mat on an elevated platform with plenty of contraptions attached to it that it now resembles a workbench than it is a platform for achieving harmony of mind and body. Well, let me run you through one of the most amazing Pilates 'workbenches' in Australia today: the Studio Pilates Reformer from Byron Bay.
I'll bring a much deeper look into this machine that has been the talk of Pilates circles for quite some time.
Overview of the Byron Bay Studio Pilates Reformer Machine
The Studio Pilates Reformer from Byron Bay offers a professional-grade fitness equipment that is as elegant to look at as it is functional to use. With a few minor hiccups, the Studio is perfect for individuals who would love to ramp up their Pilates manoeuvres to really get the results that they need.
At first glance the Studio looks nothing like the conventional reformer Pilates machines you may have already see lined up in a studio or gym. The point here is that Byron Bay treats the equipment more like an elegant piece of furniture than it is a fitness accessory.
Providing the skeleton for the Studio is German beech wood that has been meticulously crafted and finished to really bring out the natural elegance of wood. With the addition of aluminium and other components to the reformer Pilates machine, this is one fixture you'd be proud to display in your home.
This Byron Bay creation also comes with multiple adjustments from the spring tension, to the headrest, the length of the ropes, and even the foot bars. The rail system is of solid construction, allowing for very fluid movement. Best of all, it will never make any of that annoying sound that is very typical of a platform gliding on a pair of railings. On that note, I'd say the Byron Bay Studio Pilates Reformer Machine did a pretty good job.
Elegant yet functional, a beautiful piece of equipment
The Studio comes with Byron Bay's signature lifetime warranty, but only for its wood frame. As for the parts, you get a 3-year warranty period if you're going to get the platform for home use. If it is for commercial purposes, the warranty on the parts is reduced to just 12 months.
The downside is that it is heavy and has a large footprint. Weighing a full 100 kilogrammes and requiring a space about 2.34 metres long, it would really test your strength if you try to move it around. It would have been nice if Byron Bay managed to integrate a pair of roller wheels that can be folded into the frame when the Pilates reformer is in use and then extended back again for ease of transport. But, hey, if it's stability you need there's no question about the Studio.
A Closer Look at the Features of the Byron Bay Studio Pilates Reformer
Solid One-Piece Carriage System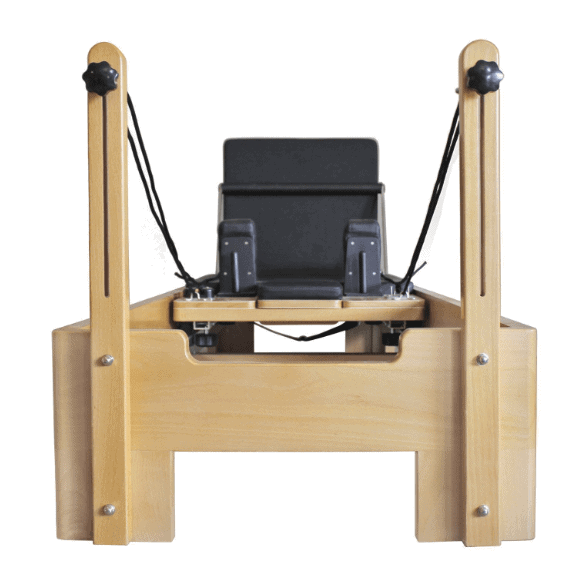 One of the best things you'll see about the Byron Bay Studio is the design of its solid one-piece rail carriage system that allows you to seamlessly move without so much as creating creaking noises as well as other unwanted sounds. The idea here is the fewer components the rail system has, the better it is in terms of sturdiness, durability, comfort, and of course noise levels.
True enough, performing a variety of reformer Pilates manoeuvres on the single-piece rail allows for very fluid movement. It's the smoothness of the ride (pardon the term for lack of better word) guarantees optimum comfort for the butt. Personally, I don't like sitting on a contraption that comes with jerky movements as this can be quite taxing on my behind.
Perhaps the most important advantage of having such a system is the fact that it won't create any of that noise that we're now very familiar with exercise machines. Can you imagine trying to focus on every bit of contraction in all of your muscles when every now and then you're interrupted by a creaking, annoying sound? This can surely set you back in terms of optimising the goals you want to achieve.
Elegant German Beech Wood Construction
The Byron Bay Studio is constructed of only the finest German beech wood, giving it sturdiness and elegance that only wooden pieces of furniture can deliver. It is for this reason that the Studio Pilates Reformer is a lot better in the home rather than in a Pilates studio.
The German beech wood is also given a remarkable finish complete with hand-staining to highlight the natural grains of the wood. Personally, this is an equipment that I'd be more than happy to put in my home rather than in the studio, although it surely wouldn't hurt if you do.
Like I said, I believe the Studio should be a welcome addition to any interior décor; that is, if you've got the space for it since this baby comes with a really hefty footprint of about 234 centimetres long and 70 centimetres wide. That's quite a space needed by this Pilates reformer. It's not really that large except that it is quite long. And for those who may not really have the luxury of space in our homes, then it might really pose a problem.
Multiple Adjustments

The Studio comes with 5 different springs that you can easily adjust to get the kind of tension that you require. There are 2 light-strength springs, 2 medium-strength springs, and one for heavy use. Adjusting these springs can give you highly variable levels of resistance so you can easily decide how you want to proceed with your Pilates reformer routine.
Of course, I would have preferred if there was a much easier way to make the adjustments; perhaps with just a flick of a button or switch or something. But, at least, the Studio comes with such variable springs so you can easily choose which ones stay connected to the platform to get you going.
The headrest can be adjusted in either of 2 positions. It should accommodate just about any height, although I would have preferred if there were more. The Studio's foot bar can also be adjusted to 4 different positions, allowing you optimum versatility when it comes to the kind of Pilates routine you want to perform.
At any rate you won't hear yourself complaining that the foot bar is simply not good enough that you're tied to a single position. The accompanying ropes also have adjustable lengths, giving just the right length for whoever decides to sit on the platform.
The rail carriage system itself also features 2 stop adjustments, again allowing you to customise your use of the Studio. The pulley system at the end of the Studio also affords exceptional adjustment of one's position. This is something that I know you will find handy as you can assume different Pilates positions without really making any significant changes to the setup of the Studio.
Studio-Grade Design
To say that the Studio is a Pilates reformer machine built for the Pilates studio is an obvious understatement. With a headrest that is padded I EVA foam plus springs that are constructed of carbon steel and plated in nickel, this is one Pilates reformer machine that is built for professional or commercial use. There are metal components made of anodized aluminium, giving it exceptional protection against oxidation and corrosion.
It also comes with a Cardio Rebounder or Jump Board which you don't typically see in Pilates reformer machines built for home use. At least, if you do manage to bring the Studio home you'll be glad to have a studio-grade Pilates equipment right in your home.
Pro and Cons
Pros
Exceptional build quality especially in the putting up of the German beech wood with aluminium metal components
Solid one-piece rail system for effortless glide and noiseless operation
Fully adjustable mechanisms from headrest to foot straps to foot bar, rope lengths, and levels of spring tension
Lifetime warranty on the German beech wood frame; 3 year warranty on parts for home use, 12 months if commercial
Maximum user weight at 120 kilogrammes
Cons
The straps may not really be of the highest possible quality
The 120-kilogramme weight limit may not be sufficient for some individuals
May require additional padding for the footrests
Quite heavy at 100 kilogrammes; large footprint, too
A bit on the pricier side
Should You Buy It?
The Studio looks formidable from every angle. It's long and heavy, but this actually plays well to its advantage as a very stable platform. The solid construction of its one-piece rail system is also very noteworthy. Overall, the Studio stakes its claim as one of the best Pilates reformer machines in Australia.