Individuals who run for at least three times a week are generally more physically fit than those who do not. This half-a-century finding provided the basis for the development of the treadmill as an exercise equipment designed to help individuals get the training they need without leaving the comforts of their home.
And while most commercial-grade treadmills can be found in gyms and fitness clubs, you actually don't have to be in these places to reap the full benefits of walking or running on treadmill.
Treadmills are expensive exercise machines, no doubt about that. But there's bound to be those that fit every type of budget. In this article, I'll be sharing with you the best treadmills under $1000 in Australia to get you started on that path to fitness and weight loss. Let's dive right in.
| Image | Product Name | Max User Weight | Max Speed | Design | Where to Buy |
| --- | --- | --- | --- | --- | --- |
| | | 110 kg | 12 km/h | Foldable | |
| | | 105 kg | 6.0 km/h | 180° Folding | |
| | | 130 kg | 14.0 km/h | Foldable | |
| | | 120 kg | 12 km/h | Foldable | |
| | | 100 kg | 6 km/h | Foldable | |
Endurance Ghost Compact Treadmill
The Endurance Ghost Compact Treadmill is an offering from an already trusted brand when it comes to exercise equipment. With this model, the manufacturers are offering a brand-new setup conveniently packaged in a structured frame. The treadmill weighs roughly 51 kilograms and built using steel. It can be folded into a convenient 645 by 689 by 1584 millimeters, thereby allowing users to tuck it in to save on floor space. When in use however, expect the treadmill to cover an area of 1450 by 687 by 1207 millimeters.
It boasts of a sleek design with a total of 8 suspension points. The running surface is made of an anti-static belt, providing sufficient friction to prevent you from sliding off the pad. The running surface itself is a generous 1400 by 400 millimeters.
No need to worry about static build up with this model, even when you're using it at full speed of 12 kilometers per hour. The minimum speed setup is at 1 kilometer per hour, making it ideal for beginners or those who want to start slow with their workouts. If you want to kick things up a notch, the Endurance Ghost Compact Treadmill can also be inclined manually.
The unit is also primped for the modern user. It comes with an iPad holder to keep you entertained during long workouts. It's also equipped with Bluetooth technology for easy connection with your other gadgets.
Coupled with the 2.0 HP motor, other specifications of the model include a console that displays your speed, distance traveled, and the time spent. It can also display calories burned during the time. For safety, the treadmill is equipped with an Overload and Short Circuit Protection.
Pros
Made from durable material
Foldable and easy to store
It comes with ready programs for workouts
Product comes with 2 years' worth of warranty for the frame and 12 months for parts replacement
Cons
Maximum user weight is limited to 110 kilograms
Lifespan Fitness WalkingPad™ Treadmill
The WalkingPad Treadmill is an exercise pad specially designed to fit in small spaces. It is 60 percent thinner than your typical treadmill and only measures 143.2 by 54.7 by 12.9 centimeters when completely laid out. If you want to fold it for storage, the treadmill can be reduced to just 82.2 by 54.7 by 12.9 centimeters because it features the 180° folding technology.
It features a sleek black design with a frame that's made in cast aluminum alloy. This creates a sturdy build with a weight that's just right at 30 kilograms.
The product features an LCD display and adaptive speed settings that can be controlled through a hand-held remote. The treadmill itself is self-adjusting, which means that if you start walking faster, the platform would speed up accordingly. However, the maximum speed is only at 6km per hour.
The LCD display offers information about workout statistics such as how long you've been walking, the speed you're using, the number of steps made, and the distance you've travelled. For beginners, the treadmill has several programs that you can use to pace yourself and improve in increments.
The platform of the treadmill itself boasts of an EVA cushioning system which easily takes the impact of the step without jarring the equipment. As a result, you get a soft landing spot for your feet and reduce the possibility of jarred knees and ankles. This makes it perfect for those who are working out for recovery purposes.
All in all, the WalkingPad™ Treadmill is an excellent choice for Australians looking to purchase a compact equipment for indoor use. It's a sleek design that can be set aside when not in use, easily moved from room to room, and efficient in keeping you fit for other activities.
Pros
Wonderfully compact and easy to store
Low noise during use
Power efficient with remote control access
Cushioned platform with sleek design
Cons
Only has a maximum speed of 6km per hour
Endurance Marathon Treadmill
The Endurance Marathon Treadmill has 12 suspension points with a speed of 1.0 to 22 km/h. The motor has a powerful 4.0 Continuous HP with 6.0 HP at peak.
You don't need to worry while you run because it has an anti-static quality material belt to avoid slipping or falling down. It also has an adjustable incline so you can program it according to your preferred resistance or training. It has amazing features including clear HTN LCD display that shows time, distance, incline, speed, calories burned and even your pulse rate. It is clear and easy to read so you know every detail while you are getting your work-out.
Choose from 12 different pre-program buttons: weight loss, fat burn, hill training, cardio, interval work-out and much more. It also has an automatic speed control that you can choose from or if you want, set your own speed settings.
It has a durable steel frame with 2 drink bottle holders so you can place your beverage while working out. Aside from that, the Endurance has transportation wheels and is foldable, so you can easily move it from one place to another. Handle has a pulse sensor that automatically reads your pulse rate while you walk, run or jog.
Listen to your favorite music while working out with the built in USB port with mp3 cable. You will also find an iPad and speaker holder that has an anti-slip surface.  What's more, it has a lifetime motor and frame warranty plus an amazing 12-month warranty on parts replacement which makes it hassle-free and worry-free.
Pros
Compact
Foldable and has wheels
Smooth and quiet to walk on
Great value for money
Product comes with lifetime motor and frame warranty plus a 12-month parts replacement warranty
Everfit Flat Electric Treadmill
This flat treadmill does live up to its name as it folds literally flat. I suppose this is why the LCD display is positioned quite oddly flat on the panel. This uniquely designed treadmill may look rather odd to some, but I like to think that this is a smart and innovative design.
With a max speed of 12 km/h, it is a powerful one. The flat panel allows you to place your tablet at the holder so you can watch your favourite shows or work while you keep active. To assist you with being active, the purchase of this treadmill comes with a fitness tracker.
There are 12 speed levels and programs to choose from so you can customise your workout as you wish. Not forgetting to mention that the treadmill has a wide running platform of 42 cm running belt.
When unfolded, the dimensions of this unique treadmill are 70 x 97 x 148 cm. It is not a huge treadmill to begin with, it is pretty compact. Meanwhile, when fully folded, its dimensions are only 14.5 x 70 x 148 cm. It is really flat, true to its name.
All in all, this is best compact treadmill if you are looking for one that is really flat when folded for storage as this is good to tuck under the bed or sofa.
Pros
Very compact when folded
Uniquely designed
Comes with bonus fitness tracker
Max user weight of 120 kg
Wide running platform
Cons
The LCD display position might be uncomfortable to some
Check the PriceOn Amazon Australia
WalkSlim 470 Folding Home Treadmill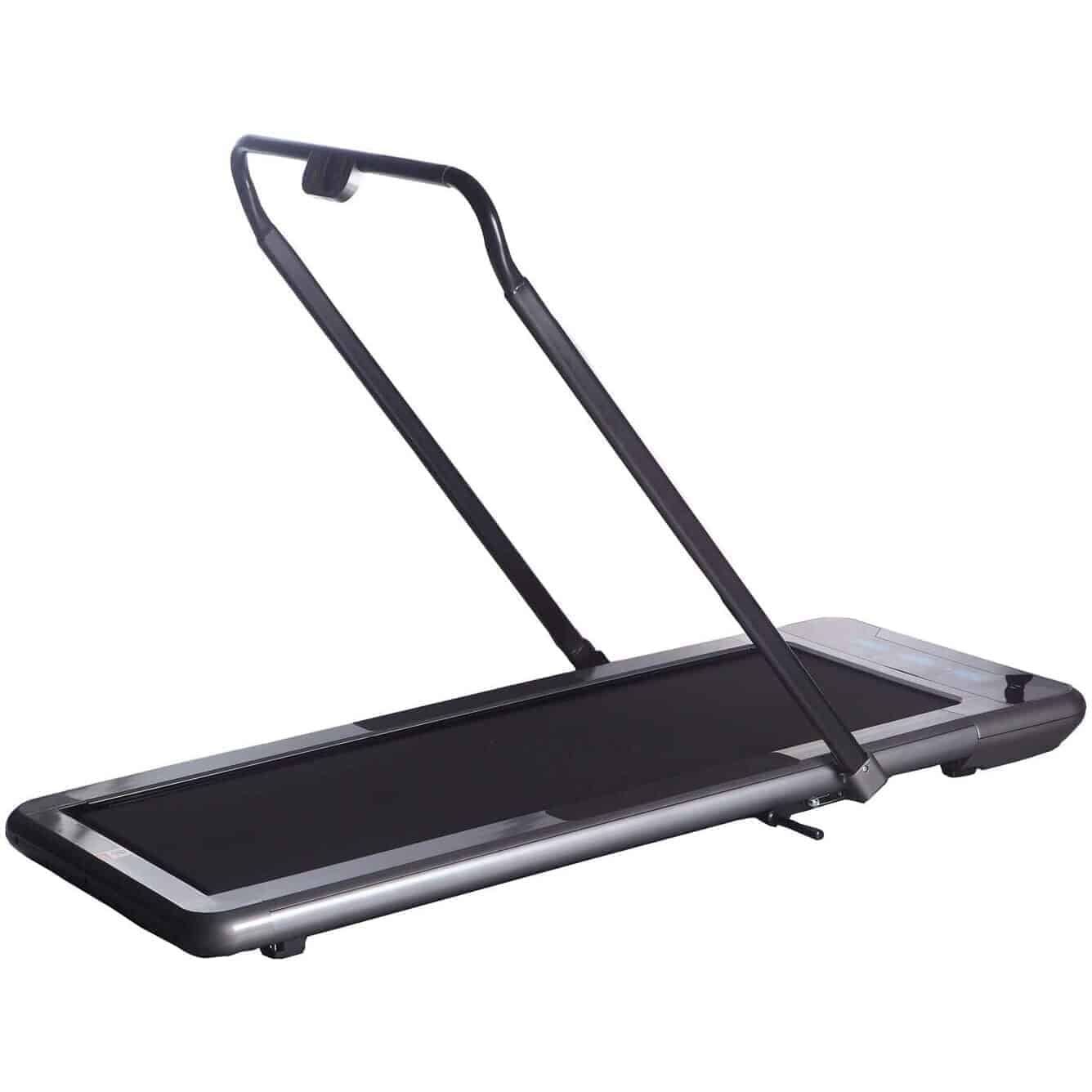 Very much like the newer version as mentioned above, this WalkSlim 470 Treadmill is the predecessor. This treadmill has very similar features to the 570 except with toned down functions.
Nevertheless, the 470 functions absolutely well with LED Touch control panel showing the basic metrics such as time, speed, distance and calories. While the 570 can put up with a max user weight of 120 kg, this treadmill can hold up to 100kg. This makes sense as it is the older version. However, if you are not of big-built, I suppose the max weight would not bother you much.
The max speed though, is only up to 6 km/h. If you are onto light running or brisk walking on the treadmill, this is perfect for you. Not so much for hardcore runners.
That being said, this treadmill is designed for space-saving especially for those with limited home or office space. It folds extremely flat for storage. A special feature the 470 has is that it can be used with or without the arm handle. For those who want to keep active while at work, you can place the treadmill under your sit stand desk, fold the handle, and start your exercise.
In conclusion, this extremely flat and space-saving treadmill is great for those who want a treadmill to keep them active throughout the day at work or just for light jogging. And if you are not fussed about the max weight and max speed of a treadmill, then this cheaper version might be perfect for you.
Pros
Can be use with or without handle
Can be used under sit stand desk
Folds extremely flat
Has LED touch control panel
Cons
Max user weight only 100 kg
It is an older version of WalkSlim
Check the PriceOn Amazon Australia
Conclusion
While I do look at the price of almost everything, I prefer to correlate the price tag with what the product has to offer before making the decision to buy or at least try it out. The same is true with buying a treadmill.
These treadmills can be had for under $1000 in Australia, there are clearly products that provide exceptional value and quality while some are way overpriced.
If you have been googling for "treadmill reviews Australia", I do strongly encourage you to check out the features that you really want and how much you're willing to pay for such functionalities.