Individuals who run for at least three times a week are generally more physically fit than those who do not. This half-a-century finding provided the basis for the development of the treadmill as an exercise equipment designed to help individuals get the training they need without leaving the comforts of their home.
And while most commercial-grade treadmills can be found in gyms and fitness clubs, you actually don't have to be in these places to reap the full benefits of walking or running on treadmill.
Treadmills are expensive exercise machines, no doubt about that. But there's bound to be those that fit every type of budget. In this article, I'll be sharing with you the best treadmills under $1000 in Australia to get you started on that path to fitness and weight loss. Let's dive right in.
| Image | Product Name | Max User Weight | Max Speed | Folding Design | Where to Buy |
| --- | --- | --- | --- | --- | --- |
| | | 120 kg | 8.0 km/h | Yes | |
| | | 100 kg | 12 km/h | Yes | |
| | | 120 kg | 12 km/h | Yes | |
| | | 100 kg | 6 km/h | Yes | |
WalkSlim 570 Foldable Walking Treadmill

The WalkSlim 570 is the upgraded version of its predecessor, WalkSlim 470. The 470 made quite a popular appearance with its benefits. The 570 is an even better version with higher speeds, larger belt size and a more powerful motor to get you melt the calories away.
The treadmill not only looks very modern, simplistic and sophisticated, it is a very cleverly designed slim exercise equipment. It's space saving design allows you to store it anywhere in your home, whether under the couch or the bed. It comes with wheels for easy storing.
With the 570's intelligent induction speed control feature, you will have a choice of automatic or manual speed setting. The intelligent auto setting will automatically adjust its speed to increase or slow down according to your speed. The LED display screen at the bottom lets you conveniently track your performance and other basic tracking elements.
In terms of safety, the WalkSlim 570 features an emergency stop safety key function, whereby it will automatically shut off in case of a trip. The speed of this treadmill goes from 0.8 km/h for a stroll up to 8 km/h for a run.
This is one of the best treadmills in Australia if you are looking for a very thin, space saving treadmill where you can easy store in your home.
Pros
Extremely compact when fully folded
Features an intelligent induction speed control
Automatic shut down for safety
Max user weight of up to 120 kg
Check the PriceOn Amazon Australia
Everfit Home Gym Electric Treadmill

The Everfit Home Gym Electric Treadmill will allow you to enjoy daily exercise thanks to its basic yet essential features. It operates using a highly efficient motor and provides enough power to match your workout intensity up to 6 levels.
For stability, the model relies on its strong, durable construction for a no-fail running routine at home. The control panel of the unit is quite user-friendly too, something the company has provided to accommodate users of all fitness levels.
Users will like that the Everfit Home Gym Electric Treadmill has these features; its user-centric control panel makes use of a bright digital LCD display. It also comes with the anti-slip and wear-resistant running belt feature which pairs with a high strength composite running board .The inclusion of these features makes this product a very good buy; it really allows users to make the most out of the device. Everything that is included on this unit complement each other to provide an optimal running program that you can rely on and help achieve your fitness goals.
The Everfit Electric Folding Treadmill has a contemporary build and appearance which makes users simplify their fitness routines. If you're looking for a treadmill that has those features and provides plenty of bang for your buck, then this may be the treadmill for you.
You can be sure that the super compact for easy storage and the smooth wheels for mobility features will significantly improve the way you handle every day running routines. Other than that, its sleek design makes it a welcome sight on your makeshift gym at home. Great value for your money, efficient design and reliability are factors that the Everfit Home Gym Electric Treadmill offers its users.
Pros
Built-in twin speakers
Foldable design
2HP powerful motor for quiet operation
Soft-grip handle bar
12 available programs to choose from
Cons
Max user weight only 100kg
Check the PriceOn Amazon Australia
Everfit Flat Electric Treadmill

This flat treadmill does live up to its name as it folds literally flat. I suppose this is why the LCD display is positioned quite oddly flat on the panel. This uniquely designed treadmill may look rather odd to some, but I like to think that this is a smart and innovative design.
With a max speed of 12 km/h, it is a powerful one. The flat panel allows you to place your tablet at the holder so you can watch your favourite shows or work while you keep active. To assist you with being active, the purchase of this treadmill comes with a fitness tracker.
There are 12 speed levels and programs to choose from so you can customise your workout as you wish. Not forgetting to mention that the treadmill has a wide running platform of 42 cm running belt.
When unfolded, the dimensions of this unique treadmill are 70 x 97 x 148 cm. It is not a huge treadmill to begin with, it is pretty compact. Meanwhile, when fully folded, its dimensions are only 14.5 x 70 x 148 cm. It is really flat, true to its name.
All in all, this is best compact treadmill if you are looking for one that is really flat when folded for storage as this is good to tuck under the bed or sofa.
Pros
Very compact when folded
Uniquely designed
Comes with bonus fitness tracker
Max user weight of 120 kg
Wide running platform
Cons
The LCD display position might be uncomfortable to some
Check the PriceOn Amazon Australia
WalkSlim 470 Folding Home Treadmill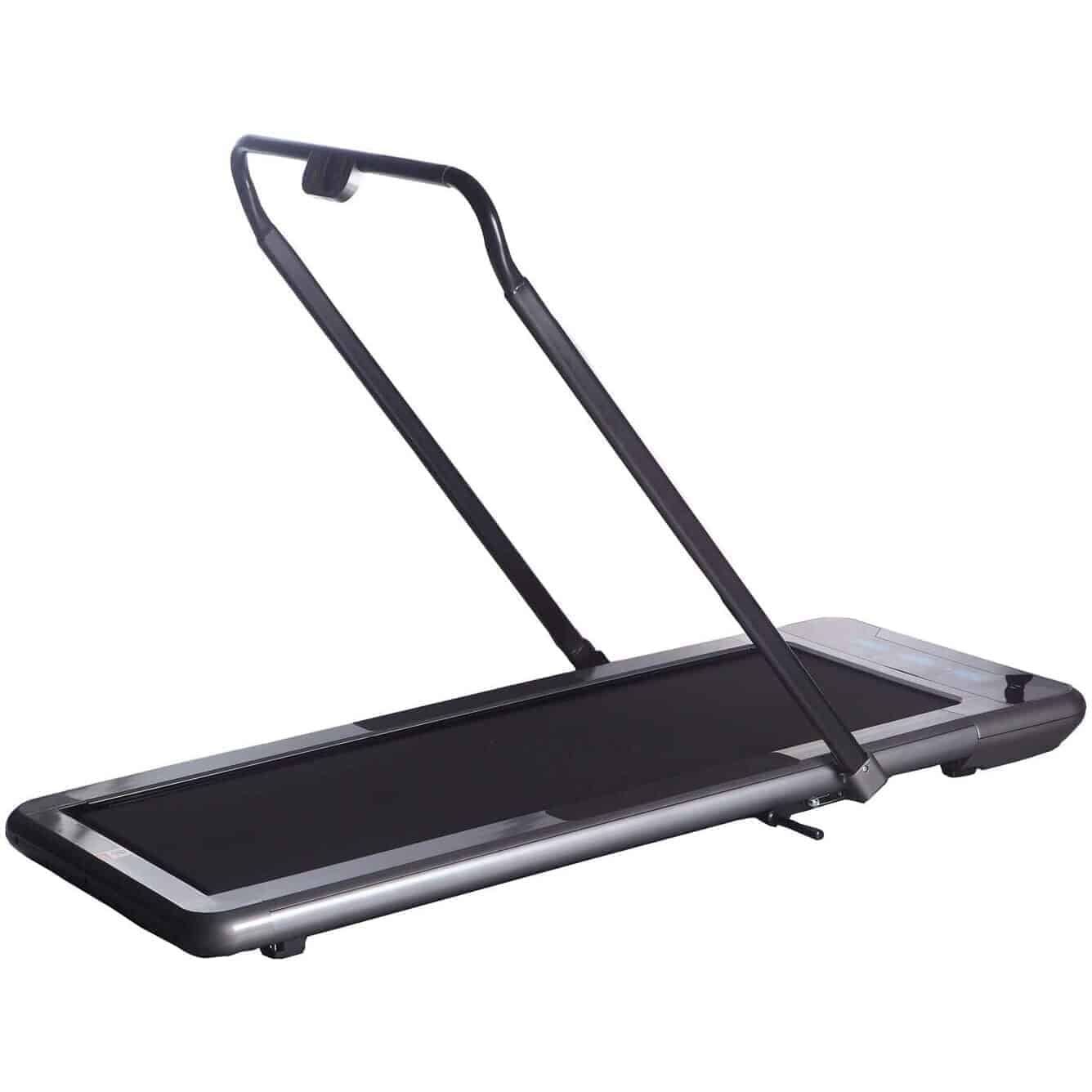 Very much like the newer version as mentioned above, this WalkSlim 470 Treadmill is the predecessor. This treadmill has very similar features to the 570 except with toned down functions.
Nevertheless, the 470 functions absolutely well with LED Touch control panel showing the basic metrics such as time, speed, distance and calories. While the 570 can put up with a max user weight of 120 kg, this treadmill can hold up to 100kg. This makes sense as it is the older version. However, if you are not of big-built, I suppose the max weight would not bother you much.
The max speed though, is only up to 6 km/h. If you are onto light running or brisk walking on the treadmill, this is perfect for you. Not so much for hardcore runners.
That being said, this treadmill is designed for space-saving especially for those with limited home or office space. It folds extremely flat for storage. A special feature the 470 has is that it can be used with or without the arm handle. For those who want to keep active while at work, you can place the treadmill under your sit stand desk, fold the handle, and start your exercise.
In conclusion, this extremely flat and space-saving treadmill is great for those who want a treadmill to keep them active throughout the day at work or just for light jogging. And if you are not fussed about the max weight and max speed of a treadmill, then this cheaper version might be perfect for you.
Pros
Can be use with or without handle
Can be used under sit stand desk
Folds extremely flat
Has LED touch control panel
Cons
Max user weight only 100 kg
It is an older version of WalkSlim
Check the PriceOn Amazon Australia
Conclusion
While I do look at the price of almost everything, I prefer to correlate the price tag with what the product has to offer before making the decision to buy or at least try it out. The same is true with buying a treadmill.
These treadmills can be had for under $1000 in Australia, there are clearly products that provide exceptional value and quality while some are way overpriced.
If you have been googling for "treadmill reviews Australia", I do strongly encourage you to check out the features that you really want and how much you're willing to pay for such functionalities.