Almost every other gym in the world has a treadmill to help provide a means to health and fitness buffs to improve their cardiovascular endurance without the need to go outdoors. Rain or shine, they can literally run their fitness goals to the hilt without any significant interruptions.
The good news is that, with today's technology, treadmills are becoming more compact, lightweight, and packed with features that make running or jogging truly fun and engaging. Best of all, many of these are now made affordable that more and more homes in Australia and the rest of the world are equipping their spaces with these fitness machines.
But the key point here is that you need to choose the best treadmill to buy in Australia as the difference between high quality treadmill and a shoddy one can have a huge impact in your fitness goals. Not to fret though as I am here to give you a head's up on the best treadmills you can buy online in Australia based on my opinion. You can click on the individual model name to check out my in-depth review.
Top 5 Treadmills to Purchase in Australia
Featuring 2 customisable fitness programs in addition to 6 presets, the Sole F80 Treadmill is perfect for those who are already advancing into the more serious types of cardiovascular endurance training. The F80 comes with a powerful motor yet in a surprisingly quiet operation. Its workout surface platform is connected to a special type of suspension that helps reduce the impact forces that can be generated through the legs as one hits the surface.
The Sole F80 comes with all the modern conveniences that include wireless connectivity to an iOS- and Android-based fitness app as well as speakers for your personal entertainment system. The F80 promises to bring optimum fitness right in the comfort of one's home.
Think of the Freeform F20 Pink Treadmill as every lady runner's and fitness buff's best friend right in the comfort of her home. It's exceptionally light with a unique space-saving E-Z-Lift and E-Z Drop Assist technology, just perfect for moving around the home, even when there is no man in the house.
Designed for the hip and trendy femme, the Freeform F20 comes with fully adjustable speed settings, safety assist features, and preset programs that will have you up and running in no time. Plus, it comes with the FreeMIX Acoustics 5.0 sound system, allowing you to listen to your favorite tunes while pushing yourself to the hilt. They don't call this the Freeform F20 if it cannot get modern ladies into great shape.
With a frame that is constructed of heavy duty steel, it is not surprising if you'd think of the sprint CT800 to be fitness machine designed specifically for professional use. Mated to its durable steel frame is an aluminum console mast that houses its unique and state of the art fitness monitoring processor that gives you a variety of programmable features.
For those who are relatively new to the use of treadmills as exercise equipment and who are quite apprehensive about tinkering with the various settings to achieve optimum performance can relax with the presets that are already embedded into the CT800. It has a large workout surface area making it especially appealing to runners and walkers alike. These and a whole lot more make the CT800 a wise investment for those seeking to lead a healthier and fitter life.
It may have a slightly less powerful motor, but the York T700 Treadmill more than makes up for it by integrating the control keys right onto its handlebar. This minimises reaching in for the controls on the center console, although one can always choose to do so. It is fully foldable and comes in at about half the weight of other similarly spec'd treadmills in the market.
Perhaps what truly sets the T700 apart is that it comes with 13 fully customisable options in addition to the 11 presets. Hand pulse sensors, integrated bottle holder, and music playing capabilities round up some of the more useful additions to the T700. At just above a thousand dollars, the York T700 delivers performance in a lightweight and affordable package.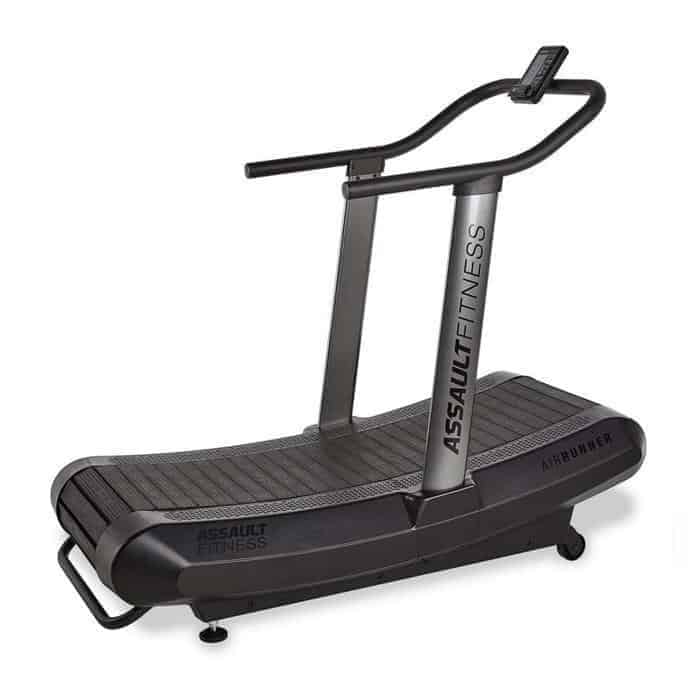 Designed for fitness buffs and even absolute newbies who want full control of their exercise and fitness regimens, the Assault AirRunner is a fully-manual treadmill that comes with a very thoughtful curved running platform design and a modest, yet fully functional console in a neat, trendy, lightweight, and compact frame. The AirRunner prides itself of giving runners the sensation of blitzing on air.
It's the perfect choice for individuals who are on a personal quest to master the intricacies of high intensity interval training. It's exceptionally eco-friendly, too, leaving almost no carbon footprint in its wake. The Assault AirRunner may give you the sensation of running on air, but it sure will burn more calories than you ever thought possible.
My Personal Favourite
Out of the 5 listed here, my most favourite is the Sole F80 Treadmill because it suits my lifestyle as a fitness junkie. I love the quiet operation even when I go hard on the workout. In addition, the feature of being able to connect to mobile application – Sole Fitness App helps to keep track on my workouts. When compared with other amazing treadmills that I have listed, I am biased towards F80 just because it resonates with my needs and it has the greatest value for money. Weighing in the price and the values it provides, hands down this is the best match for me.
Things to Consider When Buying the Best Treadmill
In case you decide to shop for your own treadmill, here are some of the things you have to look for when choosing the best treadmill to bring home.
Size of the running platform
The size of the running surface is one of the most important considerations when choosing the right treadmill. The idea in using a treadmill is to allow the maximum range of motion of your legs so you will be able to exert more power with each stride. If the belt is too short, you will be obliged to shorten your stride which undermines the performance of the leg muscles. Moreover, the risk of tripping and falling increases significantly the smaller the running surface. You will also have to consider the space in your house where you'll put the treadmill. Ideally, there should still be plenty of room left to move around the machine.
Some of the largest treadmill machines have a running surface of about 20 to 22 inches wide and 60 to 62 inches long. This is just the area of the running surface and doesn't include the size of the frame. So, you might want to take this into consideration in relation to the size of your room.
Treadmills that come with fully adjustable inclines allow you to push even harder in your runs. Typically, a 15-degree incline is often enough to stimulate the muscles into performing optimally. Different machines come with various levels of incline with some models even going for declines. The point is not so much on the degree of incline you want to work against but rather on its electronic adjustability.
If you're serious on monitoring your progress, choose a treadmill that comes with a chest strap heart monitor. This allows for more accurate cardiovascular readings as well as minimizes the risk of tripping or getting entangled on extra-long cables. Of course, if you're not comfortable with a band strapped to your chest, then you can always go for models that come with grip-integrated contact sensors or even a thumb sensor.
Depending on your skill level you may want to go for treadmills that have all of your fitness needs already preprogrammed into the machine's computer. However, as you become more confident in using the machine, you should also be able to program it according to your specific needs. Additionally, you may want to look for other features such as connectivity to mobile fitness apps, music and video integration, and a lot more. This should make your time on the treadmill a lot more engaging and entertaining.
Strength and durability are just two of the essential parameters you need to look for in the overall construction of a treadmill. Remember that this machine is going to be an important part of your fitness regimen. As such, it should last at least several decades.
In looking at the overall construction of a treadmill, you will need to assess every single component and determine how each one works in relation to others and the rest of the machine. You will need to check the belt, the rollers in the deck, and the power of the motor. These are just some of the things you need to assess.
Ease of operation and maintenance
Exercise equipment can deliver on its promise of optimum performance if it is kept in tiptop shape. That is why it is important to look at the machine's ease of operation and ease of maintenance as well. You clearly don't want to put so much effort into keeping your equipment in optimum working condition, unless you don't mind paying a professional to maintain it for you. The less complicated the operation and maintenance the better is the treadmill.
Conclusion
Choosing the right treadmill to buy in Australia entails looking at the correct size of the running surface, the ease of adjusting the incline, the accuracy of heart rate monitoring, the availability and ease of programmable features, the sturdiness and durability of its construction, and the ease of its operation and maintenance. With these you can easily make a shortlist of your treadmill selection. If not, you can always look at the best treadmills I presented in this article.