In case you're wondering why some folks can perform highly intense exercises almost on a daily basis without the obvious signs of pain, discomfort, or even swelling. That's because they've got a secret up their sleeves. Well, it's not really a secret, but it's something that some people may not be familiar with.
No, it's not going to a massage clinic. Why bother when you can get essentially the same, and sometimes better health and fitness benefits right in your home?
What I'm talking about are massage guns or percussion massagers. And in this series of reviews, I'll be giving you a glimpse of what to expect. You'll have an idea of how they can help you with your needs.
Top 4 Massage Guns in Australia
EVIEUN Massage Gun
The EVIEUN Massage Gun is one of the most popular massage guns in the country. It offers an intense massage that will help your muscles get the relaxation it needs after a workout. For a small massage gun, this device is able to reach up to 3200 RPM. It also has four different levels of intensity.
While they do have the basic variations I was looking for in a percussion device, I felt that it lacked more options to explore the different intensities. There are just not enough levels to try that would be the best intensity level for me. Compared to other massage guns in the market, the EVIEUN Massage Gun might just have too few levels to use.
Nonetheless, it's not at all bad. What it lacks in variation, it makes up in its portability and battery life. The EVIEUN Massage Gun boasts a four-hour continuous operation in a full battery. Even when I used it every day, I only had to charge it after four days which was very convenient. To add to the convenience of the whole thing, the EVIEUN Massage Gun doesn't have any cords. Yes, it's cordless which makes it the best choice for portability.
What the EVIEUN Massage Gun has that others don't is the balance of affordability, quality, and durability. In fact, its affordability was the main reason why I tried it out. For a massage gun that offers a 3200 RPM and four attachment heads, you'd expect it to be more expensive. Not with this one. Plus, it's not even cheap to look at and it didn't break after the first two uses.
To cap it all off, the EVIEUN Massage Gun is a great affordable buy that does not lack quality, intensity, and design.
Pros
Cordless and compact
Affordable but durable
Made with high-quality materials
Has a quiet motor only reaching a maximum of 30 decibels
Cons
Only four intensity/speed levels
No display showing the current intensity level
Check the PriceOn Amazon Australia
HealthLab Massage Gun
The HealthLab Massage Gun is what people call "silent but powerful". It gives a percussion speed of 3500 RPM and it has 20 different speed levels. For a 2.2-lb massage gun, these features are very impressive. I was even more impressed to know that it can last up to 8 hours on a full charge.
You've read that right – it lasts for 8 hours. It has the longest battery life I've ever seen on a massage gun. At first glance, it doesn't look anything out of your ordinary massage gun, but once you use it, you'll love to use it every time you need a muscle massage.
Did I mention that it has 8 eight interchangeable massage heads? If the number of speed levels and the long battery life weren't impressive enough, you'll be happy to know that it can give different massages for your whole body, too. It's not just an impressive motor and battery. Massage-wise, it's also a great device that you can bring wherever you go thanks to the case that it comes with.
If there is one thing that the HealthLab Massage Gun missed, it is the quality of the massages it gives. Ironically, despite the massage heads and speed levels, it's not professional-grade yet. It's not the kind of massage gun you'll use if you're a chiropractor or a therapist simply because of the quality of the percussion. I would say that this massage gun is perfect for individual use only.
As for the design, there's nothing new about its design – it's black and has a silicon grip making it easier to use and hold. However, it does have an LCD touch screen for you to adjust the speed settings easily. The lights might not be too bright, but it's a good enough attempt at a modern-looking display. You can adjust the speed settings from the display.
Pros
Has 8 adjustable massage heads
20 speed levels
8-hour battery life
Lightweight and portable
Comes with case
Cons
Not professional grade
LCD light is not too bright
Check the PriceOn Amazon Australia
TheraGun G3PRO Percussion Massager
If there's one massage gun that doesn't look like your conventional massage gun, it's the TheraGun G3PRO Percussion Massager. With a triangular-shaped base, it feels like you're holding a ruler than a massage tool. While at first, I thought it was silly and useless, the ergonomic design ended up being one of the things I loved about the product.
The TheraGun G3PRO Percussion Massager prides itself in its ergonomic triangular design. It's easier to hold and it allows you to hold it comfortable even in the weirdest angles. It also has an adjustable arm for the massage head so you can get that tensed muscle without twisting your arm in many ways. The adjustable arm has four different positions.
Other than the design, the TheraGun G3PRO Percussion Massager comes with six attachment heads made from cell foam. They're not your usual massage heads too because the material is tighter than others with a regular foam used. It's not the softest material because it doesn't have a cushiony foam, but it does the trick if you're looking for a hard massage.
I love the fact that the TheraGun G3PRO Percussion Massager is a professional-grade product. It's used by therapists and chiropractors because the percussions are precise and deep that it does effectively unknot the muscles. If you are an athlete, I suggest that you get this massage gun because it's the best gun for extra hard massages. It's made for heavy-duty use and you'll love the fact that it has a silent motor that comes with its power.
The downside to the TheraGun G3PRO Percussion Massager is its price. It's very expensive which is one of the reasons why I questioned myself if it was even worth it to buy. While it was worth it, was a big investment to make especially when there are others that are more affordable. If you're only starting out with a massage gun use, it might not be wise to buy a device this expensive from the start.
Pros
Silent motor
Powerful motor
Ergonomic design and handle
Adjustable arm with four positions
Cons
Pricey
Heavy and bulky
Only has 2 speeds
Hyperice Hypervolt Percussion Massager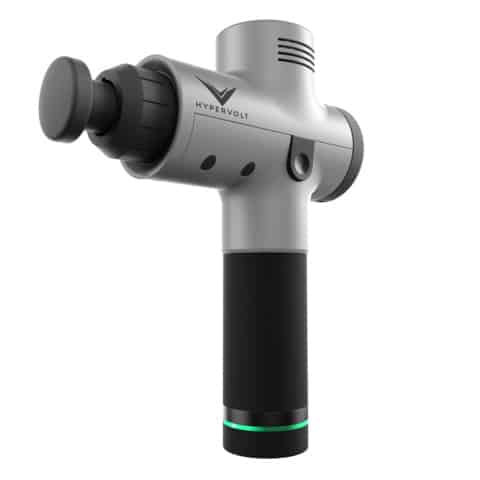 When I bought the Hyperice Hypervolt Percussion Massager, there wasn't much I know about it. This is mainly because their website doesn't give a lot of information on the Hypervolt's details. Fortunately, it didn't disappoint when I started using it.
The Hyperice Hypervolt Percussion Massager comes with five interchangeable attachment heads and three different speeds to choose from. It's definitely powerful at 3200 RPM. During every use, I instantly felt the deep tissue massage it gave to my muscles. There's just something about how the percussions moved that it was so effective for sore muscles. It's even trusted by professionals and athletes.
The design of the Hyperice Hypervolt Percussion Massager is pretty simple. It has a handle with a non-slip grip to make it easy to hold. At the back of the massage gun is the control panel, though it looks more of a vent than a control panel. It only has a power button and a few indicator lights that signal the speed. In all honesty, I did not understand what the indicator lights mean since it doesn't have any sign. Knowing how to adjust the speed wasn't even intuitive.
I appreciate that the Hyperice Hypervolt Percussion Massager has a powerful motor, but I wish it also worked on the battery life. Unfortunately, a fully-charged battery only lasts for two hours which is easy to drain when you always use the highest speed. When I think about it, there is a lot of things to improve on the Hypervolt from design to battery life.
It's a good thing that the Hyperice Hypervolt Percussion Massager is lightweight and comes with a case. It's easy to bring and change the attachment heads. If you plan on bringing this massage gun to the gym, then you won't have to worry about it looking shabby when you take it out. It also makes use of a rechargeable lithium-ion battery so charging it isn't going to be a hassle.
Pros
Professional-grade
Lightweight
Cons
Sits on a pricier side
Only has 3 speeds
The handle is too wide
Only 2 hours of battery life
Check the PriceOn Amazon Australia
Features to Look for When Buying a Massage Gun in Australia
When buying a massage gun or percussion massager in Australia, I recommend looking for the following features. While these are not absolute, these can help you narrow down your choices, making it a lot easier to choose the correct one for you.
Massage Power
This is perhaps one of the most critical things you have to look for in a massage gun. The whole point about these types of devices is that they produce steady vibrations in an up and down motion.
Imagine having a hammer that is connected to a contraption. Now, this contraption is connected to a motor that activates the hammer. The force of impact or pressure is directly proportional to the distance the hammer travels from its starting point all the way to the surface that is being hammered.
Let us put it this way. Try hammering a nail but only lift the hammer some 10 centimetres from the head of the nail. Now hammer away. Do you think you're delivering enough power to drive the nail through the wood?
Try lifting the hammer as far as your arms can go. Try hitting the nail this time. If you hit it on the spot, you might even drive the nail through the wood in a single blow. You can, thus, say that lifting the hammer as far as possible can deliver more power or more force.
When we apply this to the massage gun, the longer the distance of travel of each percussion massage or 'hammering', the more forceful is the massaging action. This is measured as the amplitude of the percussion. As such, if you see one that says it has an amplitude of 15-mm, it means that the massager is traveling some 15-mm to deliver the force into the muscles.
Sadly, not all percussion massager reveal the amplitude or even the pressure of their devices. What's worse is that I couldn't find any standard when it comes to the ideal pressure that can provide the best possible effects.
As such, you will have to try the different percussion massagers yourself and determine whether the one you like suits you fine for the massage you want. Luckily for you, I've written this review so you can gain an insight into the real-world power of a massage gun.
Drive Mechanism
This is quite similar to the massage power of the percussion we discussed above. These handheld massagers utilise small motors to drive the hammering or percussing mechanism. The more powerful the motor is, the more power that is driven to the massage gun percussion system.
Most massage guns come with an 18-watt rating, although a professional-grade one can come with a rating of 30+ watts. For home use, the 18-watt rating should be sufficient.
However, if you're into bodybuilding, extreme sports, or any other activity that requires the maximum use of the muscles, then you will need a massage gun with a higher watt rating to make it a power massager to ease muscle pain. You would ideally look for a massage gun that can give you a satisfying deep muscle recovery massage for muscle relief.
Battery Life
Another thing to look out for is the running time of the massage guns. The battery capacity of a massage gun is as important as how well it can provide the best massage to you by increasing blood flow in your targeted body parts. Though massage heads can be a big factor, it is better to have a longer running time to make it worth the price point.
Rotation Per Minute (RPM)
Besides battery life, you should also factor in the RPM that the massage gun can deliver. Some can deliver up to a whooping 4200 rotation every minute whilst some can only manage about 2400. It depends on your preference, really. The more intense or hardcore your workout is, maybe you would like one with a higher RPM, pairing with the right massage head.
Higher RPM would definitely give you the much needed blood flow into your deep tissue. If you are into moderate exercise, then perhaps a massage gun with a lower RPM would be sufficient as a tissue massager. All in all, you choose the best device for your own suitability.
Weight and Overall Design
While not exactly a feature, the weight of the massage gun will always be an important consideration. Ideally, you'd have to look for something that is heavy enough to let you drive its massage head and give you the results that you expect.
But the massage gun should also not be too heavy that you will already have a difficult time lifting it. Remember that you will be holding this over a targeted muscle group for a few minutes. If the massage gun too heavy, then you may not be able to hold it that long.
The overall design of these products should also be considered. You should be able to hold the massage gun firmly without causing unnecessary discomfort in your hands, while allowing the massager heads to reach your targeted body part at a comfortable angle. It should be able to target the different muscle groups you want to heal to relieve aches and pains from the build up of lactic acid.
Personally, I find massage guns with a long handle like a back scratcher to be more ergonomic and more ideal since I can also massage my lower back by myself. I don't need the assistance of anybody else for a simple sports massage. I like to use massage gun as a treatment after intense activities to boost my performance and relieve my muscle soreness for the next fitness regime.
There are also those devices that are designed like a gun, complete with a pistol grip. Some individuals may find this design to be perfect for pain relief. But then again, I will need someone to hold it to massage my back since the design effectively limits the reach of the head attachment.
But, that's just me. My joints do not have the mobility and flexibility I wish to have 😉 You can try to find out which system will work best for you.
Massage Action-specific Attachments
Majority of massage guns today come complete with a variety of massager attachments. They should be easily mounted onto the device and removed, too. Hopefully, you'll pick a gadget that doesn't require any extra tool to do it.
Each head attachments are carefully designed by manufacturers to ensure you get the much needed massage therapy after an intense workout. For example, some are shaped like a cone. These are ideal for small muscle groups such as those found in the wrist and the feet.
Because the smaller the surface area of the tip of the massage heads, the better it is to be used on trigger points. Pairing the suitable attachment and speed settings, the massage gun would work really well to ease muscle pains like muscle soreness, shoulder pain and muscle tension by breaking the built up of lactic acid. These ones are great for tissue recovery and muscle stiffness.
There are also those that are designed like a ball. Smaller ball-shaped massage heads are perfect for general use. Larger ball-shaped attachments are great for targeting larger muscle groups such as the glutes, the quads, and other muscles. Sometimes, these attachments are used to relieve muscle and joint soreness, providing enough blood circulation in the body part.
There are massage heads that look like dampeners. These can be used on more sensitive areas as well as over bony prominences since the design itself help to reduce the force delivered to the surface. Unsuitable attachments may exert way too much force on the bony parts.
In order to be able to pick the best massage gun suitable for your needs, it is essential to learn more about these massager head attachments.
Noise Levels
I don't care much about the noise level my massage gun generates. However, I am pretty sure a lot of folks may bothered by a loud noise coming from their devices. This can be a significant factor in your decision to pick one massage gun over another. If it is not too loud, then you can use it in the office. You can even power the massage gun on in your bedroom, while your partner is snoring to his/her heart's content.
The level of normal conversation with music playing in the background is about 60 decibels. The noise level inside your car while traveling at about 100 KPH is roughly 70 decibels. Do understand that anything higher than 85 decibels is already considered harmful. So, I would naturally go for the product that have noise levels of between 60 and 80 dB. But, that's me.
Bottom Line
Massage guns are great tools that help release knotted muscles. They support faster muscle recovery after an intense exercise. Knowing what to look for should help you pick the suitable and the best massage guns available in Australia to help with your recovery. Be sure to check out detailed reviews of the products in the table above.