Staying fit and healthy can be a challenge when you cannot regularly visit your favourite gym. You can always do a quick jog or swim, though, at the comfort of your home. But, for serious fitness enthusiasts, a home gym complete is the solution.
Luckily, I've got a list of the best rowing machines in Australia to help you furnish it. Read our buying guide, too, and learn the factors you need to know before purchasing one.
Top 5 Best Rowing Machines in Australia for 2021
A rower or indoor rowing machine is among the best fitness equipment to add to your arsenal. Aside from keeping you in shape, rowing can help burn calories and tone your upper and lower body. With this at home, you get a full-body workout anytime!
The best part is, it's a low-impact exercise with adjustable tension controls. This way, you can use your rower no matter what your fitness level or goal may be.
But like any home gym equipment, there are several rowers available in the market. Aside from rowing machine brands, their design, size and resistance levels also vary.
So, to make decision-making a bit easier, I've shortlisted a few of the best rowing machines in Australia. Now all you need to do is compare these indoor rowing machines and match them with your requirements!
Lifespan Rower 750 Rowing Machine

For avid rowers, this water resistance rowing machine is the one for you. My pick for the best rowing machine to buy in Australia is the Lifespan Rower 750 Rowing Machine. This unit has a heavy-duty polypropylene fibre and latex cord to withstand hardcore workouts. That means, constant and costly replacement is the least of your worries.
Its robust frame can even hold up to 200kg of maximum weight to suit a wide range of users. With such a well-built rower, you'll be staying fit and making the most of investment.
Aside from its durability, the Lifespan Rower 750 also guarantees reliable performance. With its specially made water chamber, you get a realistic, zero-delay experience that's close to actual on-water rowing.
Every stroke from start to finish is smooth and jerk-free. Like most water rowers, this one lacks a tension knob or dial to adjust the level of resistance. However, this downside makes the unit suitable for both novice and seasoned rowers.
Experienced users can choose to row faster anytime for better cardio benefits. Beginners, on the other hand, can stick to a slower rowing pace until they're ready to step up.
One thing I like about this unit is how easy it is to set up for home use. It has minimal parts and comes partially assembled. You can even contact the manufacturer for on-site assembly assistance after product delivery.
The built-in transportation wheels also make the unit easy to store and move from room to room. The added LCD screen also lets you monitor your progress with ease. Its digital display shows easy-to-read figures of your speed, time, distance and calories burned.
The Lifespan Rower 750 is one of the water rowing machines that also strikes the perfect balance between comfort and safety. For instance, its two-rail design keeps you stable when rowing back and forth. Rather than a cushion, this one has a contoured, ergonomic seat for added durability and longevity.
Plus, the pedals have adjustable Velcro straps and bottom heel cups to secure your feet. Lifespan also ensures that you'll be working out in style with this rower. With its stunning oak wood frame, the exercise equipment could easily pass as a beautiful piece of furniture!
The high-quality construction, design and performance of the Lifespan Rower 750 make it a worthy investment. But while it is undoubtedly robust, the unit is also rather heavy (44kg) and bulky (216 x 56 x 57cm).
You would need to find a large amount of space for it so you can row comfortably. Also, its water tank needs cleaning and refilling every six months. You have to position the machine away from direct sunlight, too, to prevent algae growth.
Pros
Has heavy-duty polypropylene fibre and latex cord for intense rowing workouts
High maximum weight capacity of 200kg
Provides an almost realistic on-water rowing experience
Smooth rowing motion without jerking or jarring
Has no pre-set resistance levels to suit both beginners and experienced rowers
Comes partially assembled with minimal parts
With built-in transport wheels for portability
Includes a performance monitor with easy-to-read display
Stable two-rail design with contoured seat and adjustable foot straps
Attractive oak wood frame
Cons
Heavy and bulky
Water tank requires regular maintenance
Needs to be away from the sunlight to avoid algae growth
---
Lifespan Rower-445 Rowing Machine

If it's your first time buying a rower, the Lifespan Rower-445 Rowing Machine is an ideal starter. Users will surely appreciate that at a very reasonable price point, this exercise equipment has top-notch construction and design.
One impressive feature is its 16-level dial that lets you adjust the resistance on the fly. With a wide tension range, users will have no trouble finding the right machine setting for their rowing skill. This feature is a great way to guide and motivate beginners to keep improving their routine, too.
Despite being an affordable rower, the Lifespan Rower-445 is far from being substandard. Lifespan Fitness is one of the best rowing machine brands in Australia.
The quiet and heavy-duty magnetic flywheel, for example, is factory-tested for optimum performance. Through load testing, this magnetic rower can deliver a maximum resistance of 18kg/F (or 150N) at level 16.
It also one way of ensuring product reliability and user safety. Lifespan also uses the extra-durable polypropylene fibre and latex for its rowing cord – a far more superior material than nylon.
Comfort and ease of use also make this magnetic resistance rowing machine model worth considering. The large foot pedals combined with the contoured seat allow you to row with ease even for extended periods. The pedals also come with adjustable straps and textured footplates for security.
Monitoring your fitness progress is also effortless, thanks to its LCD screen. This add-on has a readable digital display so you can check your time, calories burned and stroke count at a glance.
I like how easy it is to assemble this magnetic resistance rowing machine. Its minimal parts are flat-packed, so setting it up takes no time at all. There are smooth, four-roller transportation wheels, too, for mobility.
As a compact rowing machine, its size measures (195 x 48 x 57cm), foldable design (100 x 55 x 135cm) and lighter weight (30.5kg), it's easy to manoeuvre and store.
While the Lifespan Rower-445 Rowing Machine is a piece of well-made home use exercise equipment, it has its share of downsides. Its maximum user weight, for example, is only at 160kg, while other models have significantly higher capacities. Also, you have to unscrew the rail before you can fold it up for easy storage.
Other similar units are much easier to fold and reuse. Some users may also prefer a more stable double-rail system over this rower's single-rail design.
Despite its drawbacks, the Lifespan Rower-445 Rowing Machine is still a great buy. It's a unit from a reliable manufacturer that includes all the essential features without breaking the bank.
Pros
Has heavy-duty polypropylene fibre and latex cord for intense rowing workouts
With a 16-level dial to adjust the magnetic resistance system
Factory-tested, quiet and heavy-duty magnetic flywheel
Contoured seat and large foot pedals with adjustable straps and anti-slip grooves
With built-in transport wheels for portability
Lighter weight with small footprint and convenient foldable design
Comes flat-packed with minimal parts for quick and easy assembly
Includes a performance monitor with easy-to-read display
Cons
Lower maximum user weight and height capacity
Needs to unscrew the rail every time to fold and store the unit
Users may find its single-rail system less stable
Lacks specials features like a heart rate monitor and device holder
---
Lifespan Fitness Rower 800F Hybrid Air & Magnetic Resistance

The Lifespan Fitness Rower 800F Hybrid is the ideal indoor rowing machine for users looking for power and exercise variety. This unique indoor rower utilises both air and magnetic resistance types to heighten your exercise output.
What's more, you have 16 automated resistance options to match your fitness level. This piece of equipment even comes with a variety of settings to choose from 10 pre-set workouts, four heart rate monitor programmes, one Watts programme and one custom-settings programme.
Naturally, a rowing machine packed with so much power must have a matching heavy-duty construction. Its flywheel, in particular, used robust cast iron material to withstand above-average tension.
You don't have to worry about frequent maintenance either, thanks to its extra-durable polypropylene fibre and latex rowing cord. Its commercial-quality rollers also ensure a quiet and smooth ride during your workout.
When it comes to safety and ease of use, the Lifespan Fitness Rower 800F Hybrid doesn't fall short. Users won't have any trouble setting up this unit as it comes flat-packed. Parts are minimal, and assembly takes no time at all.
While keeping you comfortable with its contoured rowing seat, the large pedals keep your feet secure. Both come with Velcro straps for a snug but comfortable fit. The padded hand grips also protect your palm from abrasion. Moreover, the built-in transport wheels make it effortless to move the machine around or store it upright after use.
Techie fitness enthusiasts are sure to appreciate this machine's compatibility with the FitLink app. With this feature, you can create training plans or save your workout data on your mobile phone (Android and iOS).
The Lifespan Fitness Rower 800F works with Apple Health and your heart rate tracker, too. This way, you can get a comprehensive overview of your health status. If you wish to monitor your heart rate while working out, this magnetic and air rowing machine is also compatible with the Polar wireless heart rate transmitter. This accessory, however, is sold separately.
Unlike other rowers with hard-to-read monitors, this one boasts a large LCD display. Also, it displays more workout metrics, including time, RPM, calories, distance, pulse, resistance and watts. However, despite its unique and high-tech features, some users may not find Lifespan Fitness Rower 800F that impressive.
For one thing, power (100 to 240V) is needed for its monitor to work. Also, Lifespan Fitness Rower is one heavy (46kg) and bulky (251 x 51 x 122cm) machine. Space may be a problem for smaller home gyms. High ceiling clearance for convenient storage is essential, too. And considering its size, it only has a 150kg maximum user weight when more compact machines have higher limits.
Pros
Equipped with both magnetic and air systems for a more powerful resistance
With 16 automated resistance options and a variety of exercise programmes
Has cast iron flywheel and heavy-duty rowing cord for intense workouts
Contoured seat and large foot pedals with Velcro straps for a secure fit
With built-in transport wheels for portability
Comes flat-packed with minimal parts for quick and easy assembly
Compatible with the FitLink app, Apple Health and personal heart rate tracker
Large LCD screen displays more health metrics
Cons
Polar wireless heart rate transmitter is sold separately
Needs power for its monitor to work
Heavy and bulky
Requires enough ceiling clearance for upright storage
Limited maximum user weight
---
Life Fitness Row HX Rowing Machine

The natural wood and tempered alloy steel frame of the Life Fitness Row HX Rowing Machine is both stylish and durable. It's the perfect equipment for users after high-quality appearance and construction. Compared with other rowers, the 39kg Life Fitness Row HX has a small footprint (213 x 52 x 56cm) to suit limited space. Plus, it has transport wheels for mobility and easy upright storage.
But what gives this unit the wow factor is its four levels of resistance, which you can adjust with a simple turn of the dial. Water rowers usually don't allow resistance level selection. And if they do, it would usually require the tedious task of adding and siphoning water.
Yes, its resistance levels are limited. But for water resistance rowing machine fans looking for workout variety, this unique feature is a definite plus. It also makes the machine more beginner-friendly.
The Life Fitness Row HX water rowing machine is stable enough to hold 150kg of maximum user weight. With its two-rail system, you can safely row back and forth. Also, the seat height is only 28cm above the ground, so you won't have to worry about falling or being off-balance.
The pedals are large to accommodate varying foot sizes. The straps and peg-like adjustment on the footplates add security, too.
Comfort is another excellent feature of this exercise rowing machine. Its handlebar, for instance, is angled and ergonomic. It also has an extra-wide grip for worry-free rowing. With its cushioned seat, you can comfortably row on this machine even for extended periods.
Like other Life Fitness rowers, this one also comes with the exclusive Fluid Technology Resistance for smooth and natural rowing motions every time. Thanks to this feature, you'll feel like rowing a boat right in your home gym!
The Life Fitness Row HX is more expensive compared with other rowing machine brands. For example, it doesn't include a heart monitor like other machines. You can purchase an optional package, but that will add to your expense. Because of its two-rail design, the shared and narrow footboard can make larger individuals feel cramped and less comfortable, too.
Although the LCD screen provides essential stats like time, distance and calories burned, the details can be hard to read while rowing. There are no built-in workout programmes on its console either.
You may have to think about its maintenance needs as well. The instruction manual has all the details you need for the tank and water treatment. But, it's still a task you need to do every 1 to 2 years, depending on use.
Overall, the Life Fitness Row HX is an excellent choice as a home rowing machine. It's durable, stylish and highly customisable.
Pros
Attractive and durable wood and steel frame
Unique four-level resistance with easy-turn dial
Small footprint with transport wheels for easy upright storage
Two-rail system and low-level cushioned seat for stable rowing
With 150kg maximum user weight and adjustable footplate to support varying user sizes
Exclusive Fluid Technology Resistance simulates a smooth and natural rowing action
Cons
Quite pricey for an entry-level rowing machine
Heart rate monitor is optional and adds to cost
LCD screen details are can be difficult to read
Lacks built-in workout programmes
Lower seat height and narrow footboard may not suit larger individuals
Tank and water require annual treatment
Check the PriceOn Amazon Australia
---
Marcy Foldable Rower

If you're looking for a budget rowing machine, then consider checking out the Marcy Foldable Rower. This indoor rower may not be as striking as wooden rowers, but the plastic and steel construction are just as durable.
These materials also make the water rower lighter (30kg) than similar machines. Plus, its size (135 x 163 x 61cm) is perfect for small home gyms – a true compact rowing machine.
On top of its more manageable size and weight, this small rowing machine boasts a convenient foldable design to save space. As a compact rowing machine, when folded, the unit folds up to a 91 x 51 x 113cm size. It comes with transport wheels, too, so you can row in any room with a view!
With a simple twist of its 8-level tension knob, you can go from rowing beginner to pro, depending on your fitness status. Maintenance is a breeze, too. All it needs is a spritz of mild household spray cleaner and damp cloth for wiping.
Novice and casual users will find the Marcy Foldable Rower machine a viable option. As an affordable rowing machine, this unit comes with all the right features for comfort and safety. For instance, the adjustable foot straps of the wide pedals keep your feet secure no matter their size.
The anti-skid pedals pivot as you row to keep your feet at ease during more intense workouts. The padded handlebar also gives you a confident grip with every pull. To top it off, its wide seat (34 x 25 x 23cm) with high-density foam padding will keep you comfortable during long rides.
Keeping track of your progress is also effortless with this small rowing machine, thanks to its LCD monitor. With its easy-to-read digital display, you can check on your time, row count and calories burned while rowing. It even has a handy Scan mode, so you can quickly go through your stats with 6-second intervals.
This monitor is also multi-angle, so you can shift viewing positions or move it for easy storage. And if you love reading or watching videos during your workout, then flip its device holder open. This add-on feature will hold your book or tablet for you!
As the best budget rowing machine, it doesn't have all the bell and whistles. For example, it lacks a heart rate monitor. You won't experience a super smooth rowing motion with this unit either. Its lighter 4kg flywheel may be the reason why.
This magnetic resistance rowing machine also features a single-rail system, which some users find unstable. Considering its size and construction, the Marcy Foldable Rower may not suit larger individuals, too.
One of the things to consider is that this piece of equipment's maximum user weight is only at 113kg, while its length can only accommodate users up to 194cm. Also, it has many small parts to put together so assembly may take time.
Pros
Affordable price point
Lighter weight with small footprint and convenient foldable design
Easy to maintain and has transport wheels for portability
With 8-level tension knob to adjust the resistance
Has adjustable foot straps, pivoting pedal and padded seat and hand grips for comfort
Multi-angle and easy-to-read digital monitor with Scan mode
Includes a device holder for holding a book or tablet while rowing
Cons
Less attractive plastic and metal construction
Lacks a heart rate monitor
Users may find its single-rail system less stable
Lower maximum user weight and height capacity
Takes time to assemble this water rower
Check the PriceOn Amazon Australia
---

Things to Consider When Buying a Rowing Machine
An exercise rowing machine is a fitness investment. A little bit of research will help you evaluate each rower option. Here are some of the things you need to keep an eye on if you've been googling "best rowing machine Australia".
Construction quality
If you're looking for a long-lasting, comfortable, quiet or stylish rowing machine for home use, you need to consider its construction. Usually, brand and price are the primary indicators of a high-quality rower, but that is not always the case. Here are the specific parts to inspect when you're after cost-efficiency:
Handlebars – These should be easily adjustable with ample and comfortable handgrip.
Footplates – Large footplates with straps to keep you secure as you row are best. If possible, look for ones made of metal as plastic is more brittle against pressure.
Seat – Choose a rowing machine with a padded seat. It should mould to your bottom for optimum comfort.
Flywheel – It's best to choose a machine with heavier flywheels to ensure smoother strokes. Just make sure the weight won't compromise its portability.
Frame or rail – This part supports your body weight and comes in either metal or wood. Metal is the more durable option and best for commercial use or competition training. Make sure to choose the metal alloy ones for durability. Wood, on the other hand, is a little less durable but significantly quieter than metal. This material is common in rowing machines. Keep tabs on the unit's maximum user weight when buying a rowing machine.
Drive – The drive connects the wheel and handle of your rower to let you move forward and back. It comes in either chain or belt mechanism. Chains are more durable but noisier, and they also require regular lubrication. If you're looking for a quieter, low-maintenance machine, then go for the belt type. It's best to choose one without shroud or casing to protect the belt from fraying.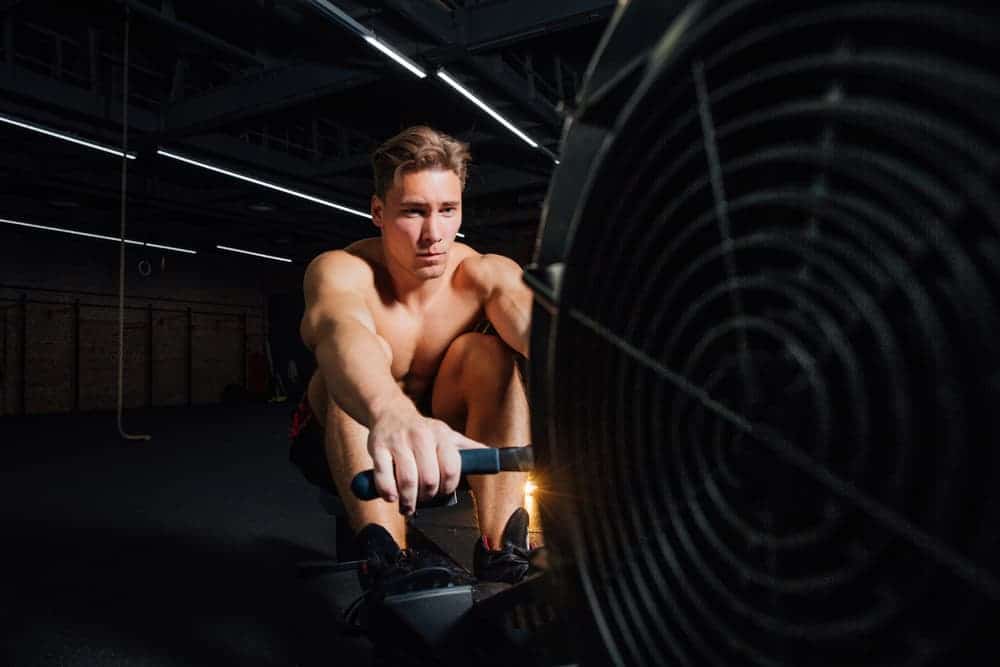 Resistance type
A rowing machine is a piece of long-term equipment with adjustable resistance levels to match your fitness progress. The best rowing machines in Australia would have to be those with more resistance level options. You may want to consider these four main resistance types when buying a rowing machine:
Air resistance rowers – This type has a spinning fan flywheel. As you row, the machine generates wind and creates resistance. The harder you row, the higher the resistance level. Air rowing machine can be quite noisy, though, and usually lacks knobs for resistance control. It's best for cross-fit and high-intensity workouts.
Water resistance rowers – Water resistance rowing machines have paddles that spin as you pull the handle. It is similar to an air rower where the harder you pull, the faster the paddles will spin. Faster spinning also means more resistance. It can make some noise but not as loud or distracting as air rowing machines. Known as the Rolls-Royce of rowing machines, these are quite expensive and take a lot of space.
Hydraulic piston resistance rowers – While one-piston machines are available, most have two pistons on each handlebar. The adjustable knob on the piston lets you control the resistance. It's quiet, compact and more affordable than other types. Hydraulic rowing machine is not suitable for long cardiovascular workouts, though, as the pistons can overheat. But it's ideal for rehabilitation exercises where independent arm workout is crucial.
Magnetic resistance rowers – This type has a spinning metal flywheel with a magnetic brake system to adjust resistance. It does not generate friction and is very quiet. It also glides smoothly and comes with a performance monitor. Like the hydraulic type, magnetic rowing machines are compact and ideal for small spaces. While magnetic rowers have multiple resistance options, they don't give as much resistance power as air rower or water rowing machines.
Built-in console or monitor
A screen display attached to your rowing machine comes in handy when you want to keep track of your workout progress. The parameters it can display, however, vary and are dependent on design and cost.
Health stats include calories burned, heart rate, distance covered, speed and strokes. It's a great add-on if you're using the rower for your health and fitness goals or if you need to monitor certain health conditions.
Others even come with smart features like Wi-Fi connectivity, Bluetooth function and pre-programmed workouts. Just make sure the metrics it can display match your requirements to avoid spending on features you don't need.
Size and weight capacity
How small or big your rowing machine should be is dependent on your space and its users. Make sure to measure your home gym first and compare it with the product dimensions before buying. Your weight should also suit the capacity of the machine.
Some space-efficient rowers have shorter rails or frames. However, you might have to skip these types if you're sharing the rower with taller individuals. As an alternative, choose foldable ones instead or those that you can easily dismantle or store upright.
Cost
As mentioned earlier, the construction, design and technology of a rowing machine are factors affecting its price. But then, the best rowing machines in Australia is not dependent on cost alone. Your choice should centre on your purpose for buying a rower. So, it's not simply just buying the best rower out there.
For example, low-priced machines less than $500 may lack high-end features but will work for occasional rowers. Mid-ranged machines below $1000, on the other hand, are perfect for fitness enthusiasts who need balanced cost and features.
Athletes and health buffs should go for high-end ones. Well-built rowers can withstand everyday use and have specialised features to suit their more specific needs.

FAQs About Rowing Machines
Can rowing machines help me lose my belly fat? How can rowing build muscle? Is a rower better than an elliptical or treadmill? Learn more about the specific benefits of rowing machines and their effects on the body in this FAQ section.
1. What benefits do you get from using a rowing machine?
A rowing machine is very versatile and can benefit most users and body types. Here are some great reasons why you should include rowing in your workout routine.
Builds muscles
One study concluded that rowing puts 86% of our muscles to work. These include the muscle groups of your upper back, pecs, arms, abdomen, glutes, quadriceps and calves. More specifically, it's about 75% leg and 35% upper body exercise. This benefit means that rowing can strengthen your body within a short amount of time. Previous research also noted considerable improvement in muscle endurance and strength with regular rowing.
Encourages weight loss
A few minutes of exercise can burn calories, and rowing is one of the best activities to do if you need to sweat and lose weight. A Harvard Health article stated that 30 minutes of vigorous rowing session help a 57kg person (125lb) burn 255 calories. Users at 70kg and 84kg, on the other hand, can burn 316 and 377 calories, respectively. Combining your rowing routine with a balanced diet is a great way to stay fit and healthy!
Avoids injuries
The best thing about rowing is that it can effectively burn calories without the strain. As a low impact cardio activity, you can safely do a rowing session at home no matter your fitness level. Users who have joint or weight issues, for instance, can perform a rowing routine while reducing pressure on the body.
Rowing machines can also work as a therapeutic device for knee, shoulder, elbow or lumbar recovery. It's a good exercise option for people recovering from surgeries as well.

Strengthens heart and lungs
Rowing is an excellent cardiovascular fitness exercise. By adjusting the machine's resistance level, we can do various aerobic and anaerobic workouts to improve our heart and lung strength.
Controlling the resistance also allows you to match your routine with your progressing stamina level. It's a great workout choice for people with or at risk of heart ailments, too.
Improves posture
Using a rower requires you to sit up straight while pulling. And if done correctly and regularly, rowing can strengthen our upper bodies. It can help prevent back pains, too. A rowing routine is a great way to correct your posture, especially if you're spending long hours hunched over your office desk.
Suits beginners
I especially like how rowing is a beginner-friendly exercise. With a rowing machine, all you need is to sit, position your feet, hold the handlebar then row!
Even visually impaired users can stay safe and healthy while doing a quick rowing workout. Also, rowing gives fast and significant results. This benefit keeps anyone motivated to stick to their routine.
2. Do rowing machines build muscle?
As I've mentioned earlier, rowing does help build and strengthen our muscles, particularly in our upper body, core and leg regions. However, you might be interested to know how rowing strokes can enhance specific muscles. Here are four rowing moves you should start mastering.

Catch
This stroke is your starting position where you are sitting close to the front section of the machine. When doing the catch stroke, you are strengthening your triceps as you extend your arms forward to hold the handle.
Reaching for the handlebar also activates your back muscles, particularly your latissimus dorsi and trapezius. While in this position, you need to bend your knees and keep the shins up. This move works out your leg muscles, including the hamstrings, glutes and calves.

Drive
The second rowing stroke is one fluid rowing motion that involves several muscles. To do this, you need to push the footplates to fully extend your legs and pull the handle towards your sternum. When you move backward, you are working out the hamstrings and glutes of your legs.
Sliding along the rail towards an upright position allows you to contract your shoulder muscles. Pulling the handlebar towards your lower ribs, on the other hand, exercises your biceps. Finally, pulling the bar close to your sternum activates both your abdominal and back muscles.

Finish
The third stroke is an extension of the drive position, where you stretch your legs fully and pull the bar up towards the sternum. After which, you use your hip and core muscles to hinge yourself slightly to the back.
Here, keeping your body stabilised activates the upper body muscles, including your rectus abdominis, internal abdominal oblique, external abdominal oblique, pyramidal and transverse abdominis. Your biceps also contract to keep your back balanced.

Recovery
The final stroke is essentially doing all first three strokes backwards until you're back to the catch position. To start, you need to move your arms forward towards the flywheel area. This motion, in turn, exercises your triceps.
Moving your hips forward and bending your knees will then contract your leg muscles. Completing a four-part rowing motion activates most of our major skeletal muscles. And so, it's no wonder why fitness enthusiasts consider it as the "perfect exercise".
3. Can you lose belly fat on a rowing machine?
Yes, rowing can help you lose belly fat. But rowing alone cannot solve this stubborn problem. Here are a few other things you can incorporate in your rowing workout for a trimmer belly:
Create a diet regimen. To quickly lose belly fat, your caloric output should be higher than your caloric input. Eating more and moving less defeat the purpose of any exercise. If possible, create a menu plan or food journal to stick your diet. You may also want to consult a nutritionist to help you plan effectively.
Move as much as you can. Every movement, even small ones, count. So, walk on your way to work, take your pet to the park or do some chores.
Choose activities that increase your heart rate. Rigorous exercises like running, cycling, swimming and rowing are great examples. Increasing our heart rate can shed belly fat more effectively.
Add muscle-strengthening exercises. Gaining muscles is also key to managing body weight and keeping it in shape. These activities may be in the form of squats, lunges and push-ups. You can do yoga or Pilates, too.
Stay active in most days the week. Try to distribute your activities in such a way that you won't spend a whole day sitting. Making exercise habitual motivates you to stick to an active lifestyle. This way, you'll be more focused not only on losing belly fat but also on staying healthy.

4. Which is better: rowing machine vs elliptical vs treadmill?
Aside from rowing machines and its different types, you may also have to consider other fitness equipment when furnishing your home gym. For instance, how does a rowing machine compare with an elliptical and treadmill? But first, let's differentiate one stationary equipment from the other.
A rower has a rail, flywheel and handlebar working together to let users simulate the rowing action to propel a boat in the water. The elliptical has pedals for your hand and feet to let you walk or run in place without impacting your joints. And then a treadmill has a flat moving strip that allows you to walk or run in place.
To compare these exercise machines, I'm using three factors: weight loss, muscle gain and user-friendliness.
Weight loss and cardio health
All three exercise machines have cardio benefits that contribute to weight loss. They also have adjustable settings to increase your cardio rewards. However, the treadmill is the most effective for cardiovascular fitness because of one distinct feature: its incline setting.
Using this option lets you burn more calories. What's more, compared with rowing, walking on an inclined treadmill requires less effort, motivating you to exercise and burn more calories.
Muscle gain
If your fitness goal is to burn calories and strengthen your muscle at the same time, then a rowing machine tops the list. A treadmill, while it has adjustable settings, can only activate your leg muscles.
An elliptical, on the other hand, gives you the option to work out your legs or both arms and legs. With a rower, the machine will not work if you don't use both arms and legs.
Compared with the two other devices, the rowing machine activates considerably more muscle groups. In essence, a rowing machine is like weightlifting, making it more efficient for muscle building.
User-friendliness
The user-friendliness of these devices heavily relies on how well their features match the needs of the users. For example, in general, elliptical machines are more expensive than rowers and treadmills. But they are also super easy to use.
Treadmills are perfect for multitaskers who want to exercise while reading or watching TV. But treadmills need regular tread belt and motor maintenance. They won't work without electricity either.
On the other hand, rowing machines are low maintenance and more affordable. You can use them even without electricity, and depending on the rowing machine model, they are foldable to save space.
In sum, all three exercise machines have their pros and cons. So, when choosing which one to buy, make sure to match their features with your preference and needs.

5. How long do I need to row on a rowing machine?
Exercise duration varies from person to person. Also, some use the rowing machine to lose weight, while others to prepare for a competition. But, in general, the Australian exercise guidelines recommend up to 300 minutes of moderate activity or up to 150 minutes of vigorous activity each week. This standard applies to individuals age 18 to 64.
Moderate exercise includes dancing, swimming, brisk walking, horseback riding or cycling. Vigorous activities require more effort like aerobics, jogging and competitive sports. Of course, if you're using the rower for sports training, you would have to consult your coach for the proper exercise duration. Also, athletes probably have to do exercises other than rowing, depending on their sport.
Whatever your purpose for rowing may be, what is essential is that you know the proper rowing technique. Mastering this will let you make the most of your exercise time, avoid injuries and achieve your fitness goals.
Final Thoughts
The rowing machine is 100% exceptional. With this in your home gym, you can get the full-body workout you need and reap the benefits in a short amount of time. And based on the above rowing machine reviews, I would have to say the Lifespan Rower 750 Rowing Machine stands out from the rest.
Its durable build quality, high maximum weight capacity, ergonomic design, and mid-range price point suit most users. The oak wood frame and realistic on-water rowing experience also make the machine beautiful inside out. All in all, this rowing machine is your perfect match if you want a long-lasting machine with excellent value for money.
But then again, every rowing machine is unique. That's because each user has a different set of fitness needs. And if you're looking for the best rowing machines in Australia, research is crucial.
So, before buying the first rowing machine you see, consider giving it an in-depth look. Study its features first to determine whether it can help you with your goals or not. After all, any rowing machine is no good if you won't use it regularly to stay fit and healthy!
Hope the review above can help you pick the best rowing machine in Australia to suit your needs.