Massage guns, despite the intimidating looks, garnered a lot of positive buzz and has been embraced by professional athletes, fitness enthusiasts and ordinary folks alike.
However, it is not the cheapest muscle recovery and toning device around. Thus, a lot of consumers are wary if spending a fortune on such products is all worth it.
Believe me, there's a good deal of massage gun models out there that work. For one, the Healsage company has the testimonials to back up the excellent workings of their massage gun. This one is no gimmick; it actually lent a huge hand in muscle recovery and easing tension.
Gear up and let me explain what you need to know about the Healsage Massage Gun.
Overview of the Healsage Massage Gun
Massage guns, for the most part, provide what is known as percussive/vibration therapy. The targeted muscle area is given a quick shot of pressure into the tissue while the head of the device rotates in a back and forth manner.
We are used to the nimble, gentle strikes of pressure that our choice masseurs and masseuses provides us during a relaxing massage. With a massage gun, we actually acquire similar benefits. A massage gun like this popular Healsage product is like a trip to the spa—without setting foot outdoors. It's a time-saving, labour-saving, money-saving way to muscle recovery.
Let me provide an overview of the item. The Healsage Massage Gun package consists of the device, 6 removable heads, a user manual, an AUS/NZ-rated charger and a battery. All items are contained in a slim, travel-friendly carrying case.
In terms of the massage gun's appearance and built, I can say that it feels very solid in my hands and its construction speaks durability and longer years of use. As long as you take care of it properly, you will indeed own a unit that will last for decades. Thus, use the unit wisely and give it proper care and maintenance.
Maintenance of the device is very easy; you only need to switch the device off and use a clean, damp towel on it to remove dirt, grime and lint. Dry it afterwards with a soft cloth.
Here is a quick rundown of the device's functions and benefits:
Better recovery time
Deep tissue warmups before competitions or activities
Injury prevention
Targeted muscle activation
Toning particular muscles
Improved range of motion
Improved flexibility
Ease and treat muscle stiffness
Better blood circulation and oxygen supply
Reduces lactic acid build-up to stop muscle fatigue
That's the Healsage Massage Gun in a glance. Now, we are going to discuss the gist of the product's features in the next part of this review.
Use "HEALTH5" coupon code for 5% off
An In-Depth Look at Healsage's Massage Gun Features
20 Adjustable Speed Settings
The Healsage Massage Gun features a stroke length of 12 mm., a percussion frequency of 1000-4200 RPMs and 20 adjustable speed settings. You might wonder why the device needs more than 10 settings to work. Let me explain – the need for a good selection of speed settings is that it allows users to conveniently fine-tune the speed according to their needs.
Not all of us have the same muscle recovery experiences and issues. Thus, a massage gun that allows a more extensive list of speed settings can certainly accommodate plenty of solutions for every specific problem.
If you want a gentle massage using the Healsage massage gun, opt for Level 1 by pressing once. You may want to press on Level 2 if you want the speed of the device to go up a notch. Press Level 3 three times if you prefer something stronger and so on and so forth. The blue LED light will indicate the power level inputted.
Contrary to the popular belief that only professional athletes should use a massage gun, the device can actually serve its purpose for common conditions that all of us experience one time or another.
For example, Level 1 of the Healsage massage gun, coupled with an appropriate attachment, provides gentle oscillations that soothe tired, tensed muscles. The levels and speed provided by the device is also beneficial for people recovering from soft tissue injury, those who have frequent body pains related to their occupations and people suffering from chronic pain.
6 Interchangeable Attachments
The Healsage Massage Gun comes with 6 replacement heads.
The Flat head is referred to as the "All-Rounder" attachment that is suitable for use all over the body. It has a flat surface and it's designed to tackle a broader area of the body using instantaneous percussive motions.
The Round head is meant for bigger muscle groups like the lower back, the gluteals and the hamstrings while the Small Round attachment is suitable for working on medium muscle groups.
The Spine attachment meanwhile features a fork U-shape and is recommended for use on the neck and spine. This is the best attachment for easing pain on the back and neck and it's what I reach out for often.
The Cushion head is another All-Rounder but it is softer compared to the Flat type attachment.
Lastly, we have the Bullet attachment, which is recommended for working on deep muscle penetration. This can be used on certain parts of your body like the joints.
The replacement of applicator heads works in a snap. The attachment secures tightly as soon as it's installed. No worries about it falling off during use. To change the head, you only need to switch the unit off then insert the attachment by pressing it firmly on the device. You can remove the attachment by simply pulling the head.
To make the Healsage Massage Gun work for you best, I have this simple advice; do not go gung-ho on it. It's extra-powerful and as much as you can, use a low setting since we do not really want our muscles to get too much stimulation. The settings will also depend on your size—higher ones are meant for bodies built like linebackers and weightlifters.
I don't use the device regularly as well. I try to rotate use of the item every other day so it will not reduce its efficacy.
Relatively Quiet Operation
The best electronics work quietly. Continuous, loud noises can be annoying for some. We have to mind the devices we use since this can cause a rift with the people we live with, or folks living close to our abode.
The Healsage company specifies that their massage gun emits decibels ranging from 42-55db. This means that the noise of the device is pretty similar to a day in the suburbs, the insides of the library and people chatting at home. That's quiet enough not to disturb the entire household.
Using the device will not keep somebody at home awake at night. It still generates sound but not so loud that it will irritate neighbours sleeping late on a lazy Saturday morning. Thus, if you use it in the evenings, nobody will dare complain, I guess.
The device has a roller bearing motor which is powerful enough to churn out 20 speed settings and at the same time, work fairly quietly. The portable design of the massage gun makes it one travel-friendly piece so you will be tempted to bring it everywhere with you.
The good news, other than being a device that works efficiently, is that the noise it releases will never be an annoyance to other folks, wherever you go. Just don't try to use it inside a library or any similar area where the slightest noise is frowned upon.
Insightful and Ergonomic Design
As mentioned earlier, the Healsage massage gun features a portable design. The addition of a carrying case is an added plus since it makes for a unit that is very much welcome in your traveling bag. It's handy and compact, easy to tote inside your luggage so you can always easily reach out to this 'gun when the need arises, any place, any time you prefer.
Not all massage guns are made equal; in fact, a lot of these devices have the built of drill machines. So, I am glad that this helpful item has a size that fits my luggage. I am always on the go and I do not want to miss out on all the massage gun fun. It's great that it comes with its own carry case for better organization.
The massage gun has a LED light indicator to alert users of the power level keyed in. It has an On and Off switch and a button on its LCD screen where users can set their preferred intensity for the massage. Placement of these buttons are accessible and they work instantly once pressed.
When using a massage gun, you do not really want to add more pressure on your hand and add more problems. My massive thank-you to the company designers for the device's excellent ergonomics. Handling it was easy as pie.
Good Battery Life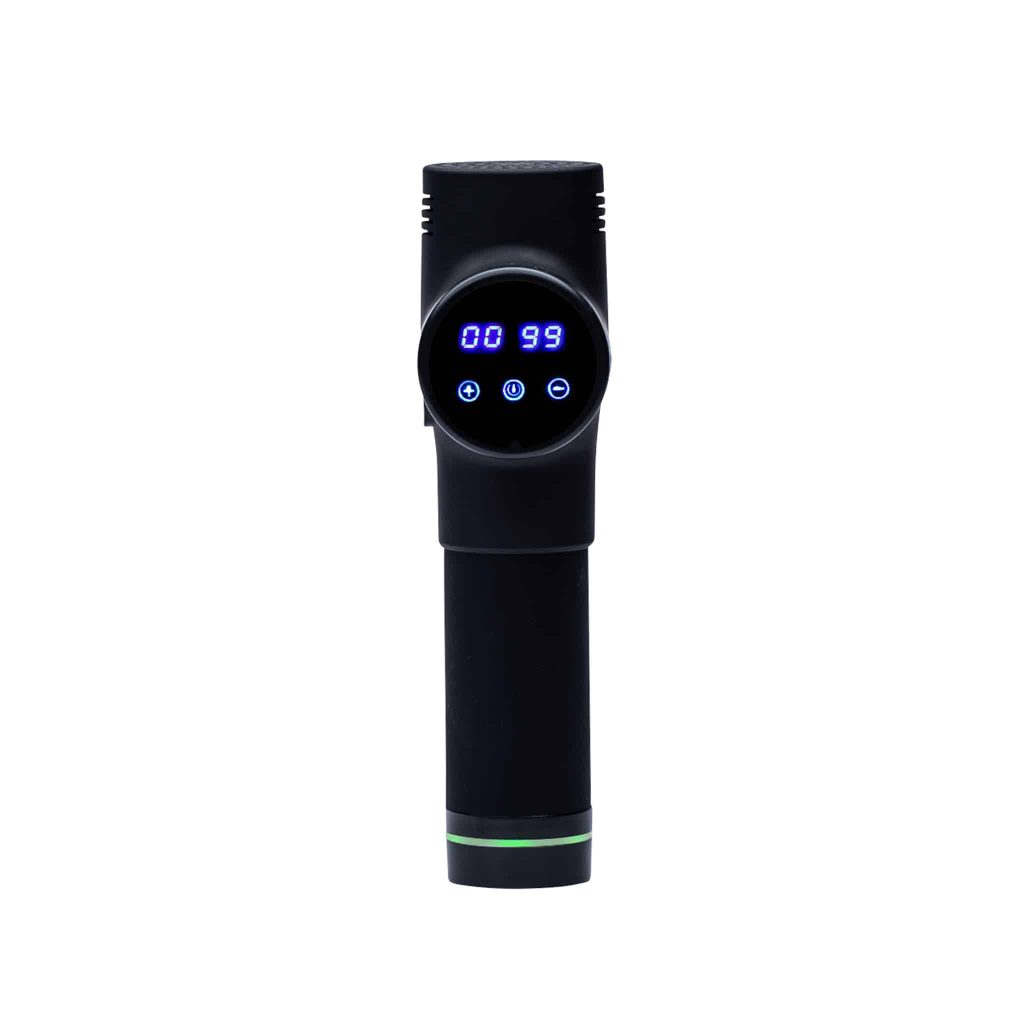 The device includes one LI-Ion Technology battery. You can purchase extra batteries separately. It has a maximum battery life of 4 hours depending on the intensity or pressure employed by the user. This is quite good in terms of battery life for such devices since massage guns are figuratively weighty units.
Removing the battery is a simple feat. Location is feasible and there's no digging around the lock and the battery like mad just to pop it out of its seat. To remove the battery, you need to press the battery release button using your thumb. Pull down on the battery using your other hand with a moderate twisting motion.
For first-time users, the device needs to be charged up to 6 hours. To charge it, you have to put the battery in, connect the 24-volt adapter, which is also included in the package, to the charging port found on the bottom of the device. Plug the cord into an outlet; LED lights will flash and show the battery level. The battery is charged completely as soon as the LED lights have stopped flashing and the ring changes into a green colour.
One advice for battery maintenance; you need to make sure that the battery is charged frequently. Do not allow it to get drained.
Healsage also offers a charging base for the massage gun so you can display it while charging. The charging base definitely makes it much more convenient to charge and access the massage gun rather than having to keep it in the case after every use. Not forgetting to mention displaying the device at the corner of your living space makes your home a tad bit cooler. The charging base can be purchased separately as well.
The Healsage massage gun worked wonders for me. That is where my money goes.
Pro and Cons
Pros
20 speed settings
Powerful massage gun features
Generous 6 replaceable heads
User-friendly display and design
Lightweight and portable
Sturdy construction
Reliable ergonomics
Optional charging base for display and convenience
Cons
Battery life max. 4 hours
Should You Buy It?
The Healsage Massage Gun is a wonderful option and a worthy buy in my book. I am now one of the many people praising its performance. While some of you might not be in favour of the device's battery life, which only offers a max 4 hours of use, just think of its reliable construction, its ability to ease and soothe and heal; your money will be worth it. Take it from somebody who has used this lovely innovation.
This is no mere gimmick. The Healsage Massage Gun impresses in spades.
Use "HEALTH5" coupon code for 5% off