Do you know that rowing machines were founded 2500 years ago in Greece? The wooden rowing machines were created to help soldiers master the rowing technique before going to a battle on the sea. Of course, nowadays, we are not going to use them to go to a war.
If you would love nothing more than to develop, tone, and build your muscles especially from the core downwards, while also helping improve cardiovascular functioning and increase overall staying power, then a rowing machine is the way to go.
Thankfully, I was given the rare opportunity to try out 5 of the best rowing machine you can find in Australia. And I am here to give you a glimpse of my thoughts on how these exercise equipment fared.
My Personal Picks of the Best Rowing Machines in Australia
Designed to be the top rowing machine in Australia like no other, the Waterrower Natural boasts of premium quality solid ash wood, meticulously crafted by hand, and finished with an elegant Honey Oak stain topped with Danish oil. At the heart of this exercise equipment is the S4, a state-of-the-art performance monitor that is placed towards the side of the WaterFlyWheel instead of the typical centre placement.
I could perhaps understand why WaterRower decided to place the console on the side. Placing it in the centre would have detracted from the overall beauty of the equipment. With great features and exceptional design, people hail this machine as the best and extra-special.
When you want to buy rowing machine Australia at a much friendlier price yet packs many useful features, you may want to consider the Lifespan Rower 605. It comes packed with 18 different workout programmes including a race mode and a customisable setting.
Technically, it is like getting one of Lifespan's other exercise and fitness equipment except that the 605 is designed like a rower. It's quite compact and foldable, too. Personally, I think this is an exceptional equipment for those who would want to stay fit and develop their bodies even though they live in a rather tight living space.
True to the philosophy of WaterRower, the Club S4 virtually doubles the already-formidable design of the WaterRower Natural. It's more robust, being designed specifically for heavy-duty commercial purposes. It is made of ash wood, rosewood, and honey oak and finished with Danish oil for improved aesthetics and urethane coating for additional protection.
The S4 performance monitor can provide the rower with more than enough data and information to achieve overall fitness performance. With the ability to use a variety of modern-age virtual technologies coupled with its remarkable Water FlyWheel mechanism, the WaterRower Club S4 simply gives you the rowing experience of a lifetime while building and toning your muscles, improving your endurance, and boosting your self-confidence.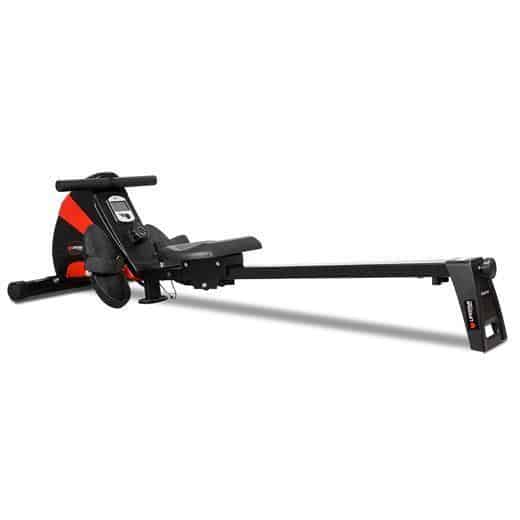 One of the most inexpensive yet equally effective entry-level exercise equipment I have ever seen in Australia is the Lifespan Rower 441. For under $500 you already get all the basics of a good rowing exercise equipment. What really amazed me is that the Rower 441 comes with 2 magnetic flywheels instead of the usual 1, producing maximum resistance of up to 14.5 kilogrammes.
Compared to the Rower 605, however, the 441 comes with fully manual controls for its variable resistance levels instead of the automatic version. But, I guess this is a rather very minor drawback since the Rower 441 comes in with many other useful features as well.
If the WaterRower Natural epitomises the best in water rowing machine Australia, then its GX variant can be rightfully considered as its entry-level equipment. The WaterRower GX comes fully crafted from premium ash wood and finished with Danish oil without the Honey Oak staining that the Natural is known for. Its components are definitely for home use only.
The GX comes not with the S4 performance monitor but rather the GX form of console. I've decided to include the WaterRower GX in this list for its comfort, stability, and value. But if you're looking for the comprehensiveness and usefulness of its console, then I guess you'd be like me, utterly disappointed. So, I don't recommend it.
Benefits of Rowing Machines
There are many reasons why a lot of folks are now including a rowing machine into their arsenal of fitness equipment; and rightfully so. With the following amazing benefits of these exercise equipment, who wouldn't be encouraged to get seated and start rowing?
A great way to lose weight
Did you know that working out on these machines for about an hour can help you burn 600 calories? This is almost the same as running continuously for an hour at a constant speed of 10 kilometres per hour.
Now, if you do this on a stationary bike, you'd have to pedal for about 78 minutes to burn the same amount of calories. Jogging for an hour lets you burn about 400 calories. Try combining exercising on a rowing machine with sensible eating and effective stress management and you'd be on your way to a slimmer you.
Builds upper body strength
If you're looking to build the muscles in your back, shoulders, and arms, then a rowing machine is an excellent choice. These types of exercise equipment help you develop your trapezius, rhomboids, pectorals, biceps, and even your abdominals. You'd also be strengthening the smaller muscle groups of your wrists and hands which I find exceptionally useful for those who enjoy rock climbing or even yoga.
What's more, strengthening the muscles of the back also helps prevent the development of back pain, a phenomenon that is quite common among the office workers of Australia today. Overall, an improvement in the core muscles also increases overall stability, helping you minimise, if not totally eliminate, the risk of injuries.
Strengthens the lower body
Unlike other machines that only build and strengthen the muscles of the upper body, an exceptionally built rowing machine Australia can help you develop the strength of your lower body as well. That is why I always consider these pieces of equipment to be important in total body workout. Among the muscles that you will be strengthening in your lower body include the quadriceps, the gluteals, and the calves. Even the small muscles of the feet are worked out.
A low-impact way to do cardio
For individuals who have issues with their joints or are overweight, doing high-impact workouts may actually be more harmful than beneficial. Rowing is a great alternative for these individuals since there is very minimal pressure exerted on the joints.
You don't even have to carry the entire weight of your body. Yet, the exercises you perform are important in improving your cardiovascular endurance, providing for the more efficient delivery of oxygen to the various tissues of the body.
Remember what I said about rowing being a total body workout? Well, this helps improve the strengthening of the different muscle groups while also facilitating the more efficient delivery of oxygen. Over time, this helps improve the overall efficiency of our cells and tissues to utilise oxygen and energy.
Becoming more energy efficient at the cellular level means you have longer staying power. You're able to accomplish more for the simple fact that your body is able to utilise energy more efficiently. This can easily translate to accomplishing all the different things that we love the most in life.
How Much Should You Spend on a Rower?
Like all fitness equipment you can buy rowing machine Australia for as low as a few hundred dollars to as high as a couple of thousand dollars. The point is that as you go up the price range, you can expect the features and technical specifications to be a lot more complex, sophisticated, and high-end. Typically, you can get a rowing machine Australia in three different price categories:
I'd like to think that the machines in this category are what every beginner would have. They may have less number of advanced features and their construction may not be of the highest and most durable quality.
However, in my personal experience, there are a few units that are priced in this category yet are packed with features that are mostly found in higher priced models. Suffice it to say, however, don't expect too much since there really is no guaranteeing that you'll get the best for this price range.
Many experts consider this price range as the 'midrange' or the middle of the pack. They do have more advanced features than their lower-end entry-level counterparts. However, they still have certain things that separate them from the top dogs. These are more durable, too. You can look at it as a compromise between a budget gadget and an expensive unit.
A lot of the high-end rowers in the market are constructed of very durable, premium quality materials. They sport only the latest in fitness equipment technology that many of these are built for repeated use.
Technically, many of these items are primarily intended for commercial purposes such as fitness clubs, gyms, and even rehabilitation clinics. They're built with only the most advanced features that fitness buffs from all walks of life require.
Features to Consider Before Buying a Rowing Machine
Price is always an important consideration before buying anything. This is especially true for exercise equipment that can be as expensive as several thousands of dollars. However, it is not the only factor that you have to consider. Here are a few more.
Are you living in a rather small apartment where space is wanting? Do you live in a home where space is abundant? Chances are if you live in the former then you'd need something that you can fold and easily store in your closet. But if space is not an issue, then you can go for fixed types of rowing machines.
This is somehow akin to the price range of the machine that you want to buy. Is this going to be exclusively for home use or will your friends be using it, too? Will you be using it in your gym or health club?
The point is that if it is going to be used by you or by few people, then you can choose something of moderate build quality. However, if a lot of folks will be rowing on it for extended periods of time, you're better off with a commercial-grade unit.
There are 4 different types of resistance that are employed in rowing machines, although it is not unusual to find machines that come with a combination of any of these types. Each one has its own unique characteristics, advantages, and disadvantages so it's important to choose the best one that suits your needs.
Air resistance rowers are commonly found in gyms and health clubs. The level of resistance is dependent on the user's intensity or strength of rowing. You want more resistance you'd have to row with greater intensity, and vice versa. The main issue with these types of equipment is that they can be quite noisy. The motion is smooth, however.
Hydraulic piston resistance rowers have fully adjustable mechanisms to decide on the level of resistance you would want to work against. These are very quiet machines, are very compact, and are inexpensive, too.
Magnetic resistance rowers are amazingly quite with very smooth motion and highly adjustable levels of resistance. These are very durable and are almost maintenance-free. The level of resistance may feel less than that afforded by water or air resistance models, however.
Water resistance rowers afford a very realistic feel to the rowing experience. These operate on the same principle as air resistance models except that water resistance rowers are much more realistic. Even the noise these create mimics that of the natural sound of a boat gliding across the water's surface. They are very expensive, unfortunately.
The benefits of these exercise equipment are simply amazing. That's why it's crucial to choose only the best and most suitable rowing machine which are available in Australia. And you can select these 5 amazing machines I have reviewed just for you.